MADISON, Wis. — Last year's federal infrastructure bill provides billions in funding for a nationwide railway system, and Amtrak says Madison is among the most important locations in the Midwest. 
The city of Madison unveiled its Passenger Rail Station Study Wednesday morning, identifying six potential Amtrak station locations. The city will hold public meetings next week to select from the potential locations, which include, from west to east: 
The area near University Avenue and Park Street on the University of Wisconsin-Madison campus;
Downtown near the Monona Terrace;

The former Oscar Mayer plant along Packers Avenue;

The area near First Street and East Washington Avenue;

The Dane County Regional Airport; and

The area near Milwaukee Street and Fair Oaks Avenue.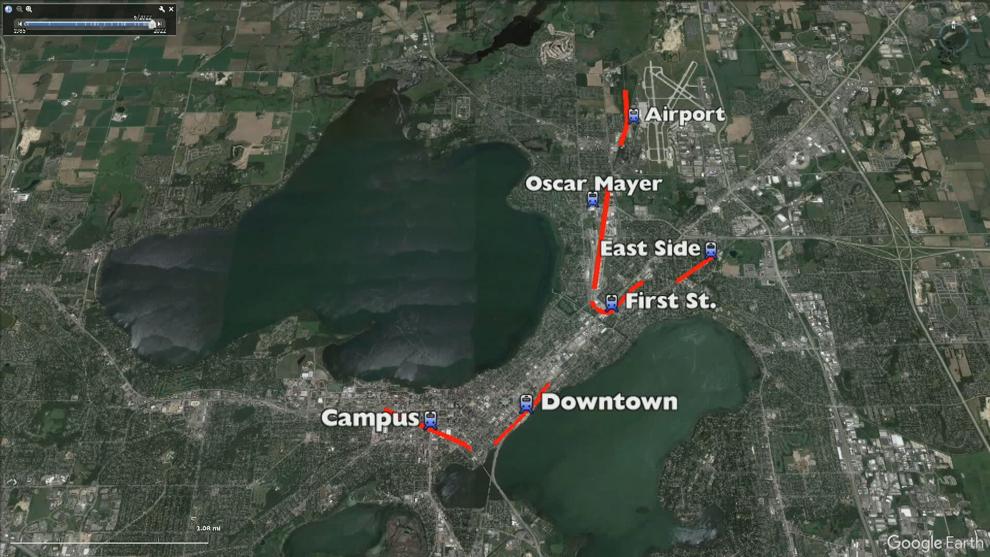 If Madison is chosen, it could save commuters time and help them reduce their carbon footprints.
"Initially what Amtrak had talked about is Madison being the end of the line for the Hiawatha extension, but there are discussions about potentially being a middle-of-the-line stop between Chicago and the Twin Cities in the future," said Philip Gritzmacher, Jr., a city planner for the City of Madison. "The trains would be running daily, four times a day."
RELATED: Madison city leaders introduce proposal for study on potential Amtrak station locations
The city can apply for federal funding in December but is getting ahead of the process by selecting a location.
We look at this as a demonstration to the federal government that we are interested in passenger rail. In December, the Corridor ID program is going to be released and we'll be able to pursue federal funding," Gritzmacher said.
Connecting Madison to the Midwest's major players elevates the city's stature and benefits the environment, he added.
"We know that there are people that make that commute all the time. This would be a greener way of getting there, would be a way that's less stressful than driving, it'd be an alternative to flying."
Officials say they couldn't put a timeline in place, while Amtrak hopes to complete the national railway system by 2035.
Looking for public feedback, the city will hold in-person and virtual public meetings next Wednesday. For more information, click or tap here.