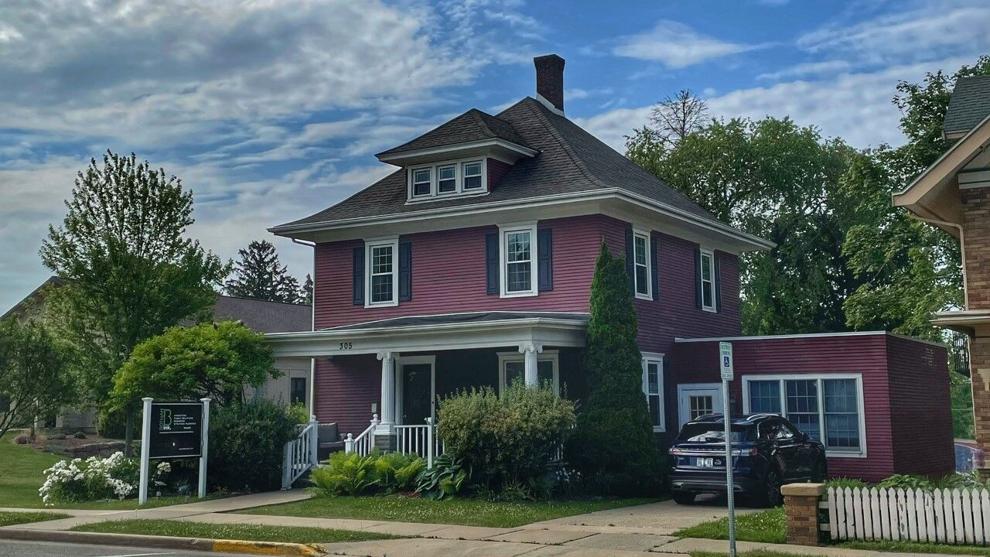 From the moment she first set foot inside the house on Main street Mount Horeb in 2017, Sarah Botham had a good feeling. Centrally located with two sunny floors and ample storage space, it seemed the perfect fit for her twin businesses: Botham INK, the branding and marketing firm she founded in 1988, and WiscoBoxes, the new startup she'd just launched that year. Better yet, the big front porch and grassy backyard made it feel like a home-away-from-home. Botham's husband Peter founded Botham Vineyards more than 30 years ago in nearby Barneveld, where the couple lives. Both work hard, especially when building a dream, so she knew she'd be spending a lot of time in the space.
"I remember walking through with the realtor and saying, 'When we outgrow this space, I'm just gonna bust through the back wall, because I have this beautiful lot behind me," Botham jokes. She knew the WiscoBoxes concept was good — curated mail order gift boxes featuring items only from Wisconsin growers, producers and manufacturers — but she was a long way from needing more than this spacious home offered.
"I thought I was just being sassy," she says. "But it turns out I was being prophetic."
Last month, that prediction came true when crews broke ground on a new, 2,000 square foot addition straight out the back. The expansion will add production and storage space after a pandemic year that changed everything — surprisingly, for the better.
"2020 was really the breakout year when this business hit its stride," Botham said in a recent press release. "Third and fourth quarter growth in particular — much of it from corporate buyers — left us bursting at the seams, and things really haven't slowed since."
Like so many other small business owners, when the government-mandated shutdowns began, Botham faced uncertainty and tough decisions. In mid-March of 2020, she furloughed her small but mighty staff from both businesses. But by April 1, she was already bringing the WiscoBoxes team back. That summer, as corporations pivoted to supporting work-from-home employees or welcoming new hires, event planners became more creative and in-person shopping became nearly impossible, demand skyrocketed for thoughtfully curated gift boxes that felt personal but could be easily shipped with a few clicks online. That's when it became all-hands-on-deck — and by the historically busy fall/winter holiday season, every nook and cranny of Botham's beloved headquarters was stacked with boxes.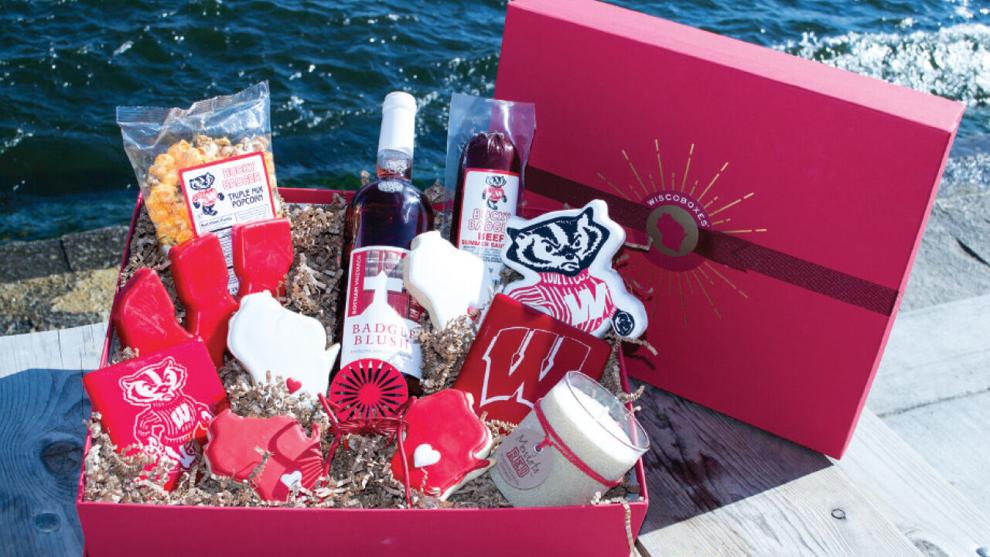 "We were literally tripping over each other. Boxes in process, boxes going out, boxes in the shipping area, boxes ready at the front door, boxes on the front porch, it was madness," she says. "We didn't have enough cooler space so my brother brought one of his motorcycle trailers and we parked it in the backyard and filled it with stuff that had to be kept cold, because we were just completely out of space."
By the end of 2020, WiscoBoxes sales were up 80% over 2019. So far this year, the company is up more than 100%. The expansion will not only make room for boxes and future growth, it allows Botham to reinvest in Mount Horeb — which has undergone an entrepreneurial boom in recent years itself, in part due to a growing network of active business owners and, Botham says, village leadership that is more supportive of entrepreneurs than you'd expect in a community of only about 7,500 people.
"They're open, they're welcoming, they're encouraging. They want to see business ideas, they're always looking for feedback about what should we do next, what's missing in our community, how can we nurture the next business that wants to open its doors here," says Botham, who leveraged TIF funding and a structure and facade grant to help pay for the expansion, marking WiscoBoxes' first source of outside funding since the company was founded. "My hat's off to them," Botham says, pointing also to the example of the village's newly created Economic Development Coordinator position, filled by Madison Reading Project founder Rowan Childs. She says the monthly meetings of the new Mount Horeb Area Innovators Group, spearheaded by Childs, are already wildly popular and valuable.
"I think we are the envy of a lot of small towns," Botham says, of the local business ecosystem. "I really do."
Botham says it means a lot to her to be a part of a vibrant business climate that nurtures thoughtful, local growth, because it aligns closely with the WiscoBoxes mission. WiscoBoxes now sources products from over 200 Wisconsin vendors in more than 70 Wisconsin cities. Curated boxes with handwritten notes and Wisconsin-made products have found their way into every U.S. state and more than 15 foreign countries.
"What we do benefits not just us, but every single maker in our boxes," Botham says. "It benefits their families, it benefits how they think about their businesses. The more volume that we do, the more volume that they can do — it's a multiplier. And that was the whole idea behind this business."