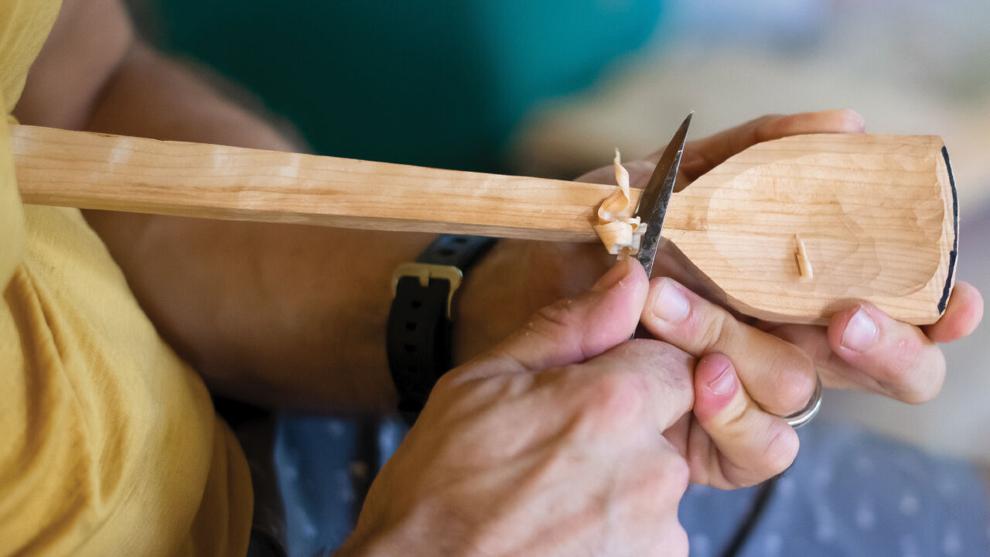 Tom Bartlett's passion for woodworking started as a child in the United Kingdom when he whittled wood into pointy sticks around a campfire.
More than 10 years ago, he took it to the next level by carving utensils, his first attempt being a wooden spoon, while living in South Korea. "I was doing a lot of traveling, and so [I was] carving with just a hatchet, a straight knife, a little hook knife and a folding saw," Bartlett says. "You can throw that in a backpack and go anywhere."
The London native came to Madison in 2015. While waiting for his green card paperwork, he kept amassing more and more wooden wares, which led him to launch Sylva Spoon a year after his move. You may recognize Bartlett's creations from a stroll around Capitol Square on Saturday mornings in the warmer months, as he's a craft vendor at the Dane County Farmers' Market.
Bartlett specializes in green woodworking, a craft that utilizes softer woods that can be carved using hand tools. In green woodworking, the wood is freshly cut with a high moisture content. Working with wood from residential trees that are already cut in and around Madison means he's using wood that wouldn't have been suitable for milling or might have been turned into wood chips or burned.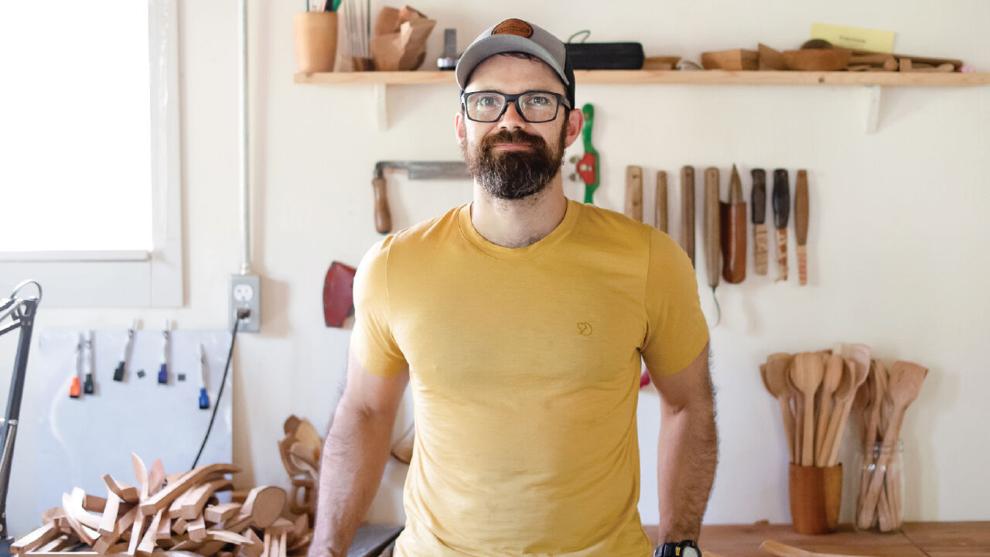 "Growing up in London and living in cities my whole life, I don't have much of a connection to going out into the forest and cutting down a tree and hauling it back," Bartlett says. "With all these trees that do come down for lots of different reasons, it's nice to be able to use them."
Bartlett is entirely self-taught when it comes to carving and does everything in his home. For most people, woodworking evokes thoughts of a big workshop with power tools, but with carving, Bartlett says the work is compact, and for less than $200 you can create a whittling kit. Plus it's quieter, there's no dust and it's easy to be social when you go mobile with your carving kit.
Sylva Spoon's products are created using one of two techniques: They're either carved with hand tools or turned on a foot-powered lathe. Bartlett started with carving, but he studied turning for three months under Jarrod Dahl, a woodworker in northern Wisconsin. Dahl turns on a spring pole lathe.
A lathe is a machine that shapes wood, allowing Bartlett to create round shapes. By using what Bartlett calls a "Viking-era foot-powered lathe," he is able to create bowls and cups with handles, as the nonelectric version spins backward and forward, unlike an electric lathe, which continuously moves in one direction.
"The first bowl that I attempted to turn looked like it had been attacked by a beaver," Bartlett says. "It was kind of funny, because turning is very different from carving and I had assumed because I knew how to carve — I was a very confident carver when I first tried to turn — that I'd understand how it worked."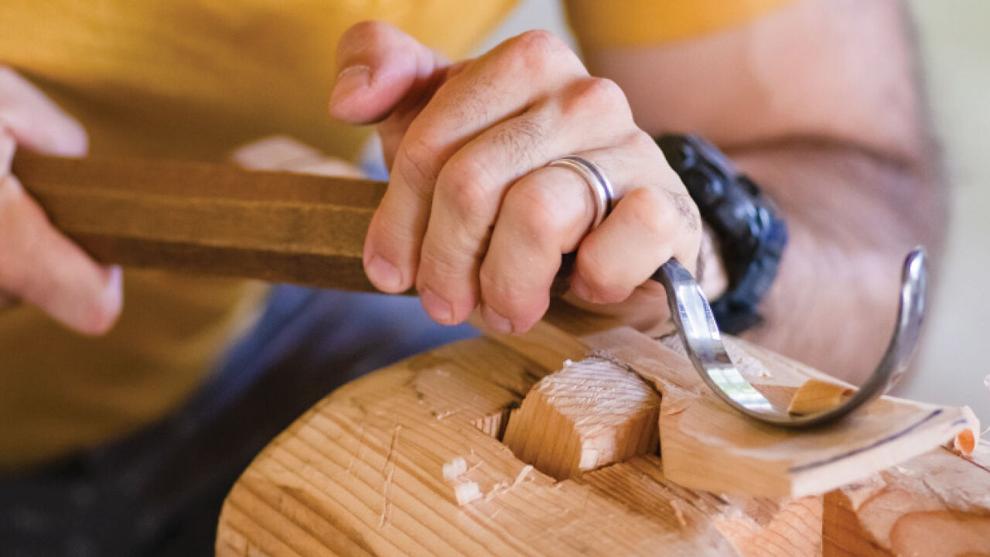 Bartlett continues to do a combination of both turning and carving, but he sticks with turning when it comes to something round and switches to carving when making uniquely shaped objects such as kuksas — cups traditionally crafted by the Sami people in northern Scandinavia.
As his business name suggests, Bartlett enjoys making spoons. In the U.K. there's an annual international gathering of spoon carvers called Spoonfest that puts a special emphasis on spoons used for eating. Bartlett says it takes a lot of work to make a perfect eating spoon, since lips are sensitive. But because most people use wooden spoons in the kitchen as opposed to at the dinner table, he primarily makes cooking or serving spoons.
"I really like home cooking, and so all of the designs of cooking spoons that I have, have gone through a bit of a testing process," Bartlett says. "They are designed to be used in the kitchen rather than designed to be easily churned out by a machine, so they do work better."
The social aspect remains a favorite element of what he does. There is a fairly large community of whittlers in the area who carve as a hobby, and the furniture design and woodworking program at the University of Wisconsin–Madison also teaches woodcarving. Prior to the pandemic, Bartlett would host the Madison Chop and Chat event on an almost weekly basis where people would gather over pizza, sit around and carve.
Teaching is at the core of Bartlett's mission. Before he moved to the U.S., he worked in the education department for a nonprofit that promoted sustainability. He likes to raise awareness and make the craft more accessible through in-person and virtual classes where people can attempt to whittle with just a couple tools. He's also planning to host classes in the Olbrich Water Street shelters.
"It's just a fun thing to do, especially with pandemic lockdowns, that you can sit and whittle quietly, and it's quite an enjoyable experience," Bartlett says. "I like encouraging others to make things themselves."
Find Sylva spoon:
Online: sylvaspoon.com
On Facebook: @sylvaspoon
On Instagram: @sylva_spoon
Maija Inveiss is an associate editor of Madison Magazine.
Tom Bartlett of Sylva Spoon whittles local urban wood into beautiful, usable cookware