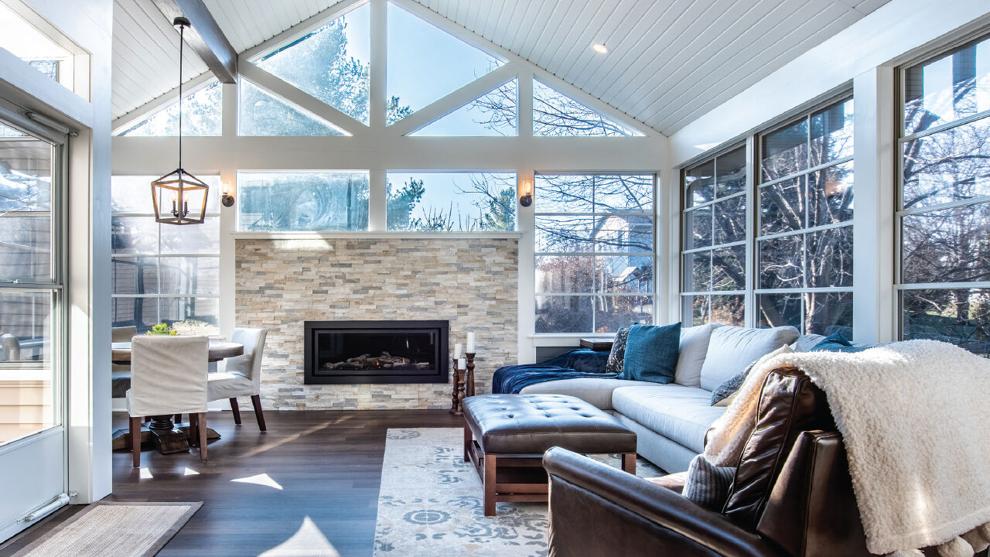 Residential homes in Hawaii and southern coastal regions like Florida have lanais. The West has sunrooms. In Texas, you'll see open-air kitchens.
As for Wisconsin, there might be nothing more distinctively Midwestern than the seasonal room.
Four- and three-season spaces make sense in a region where outdoor living is affected by a dramatic range of temperatures and diverse weather patterns. The three-season room or porch's name is just what it sounds like — it's an attached deck or patio area enclosed with glass or vinyl windows, allowing for comfortable use during every season but winter. Urban homes tend to have three-season "porches" in the front of the house, while suburban homes are more likely to have a three-season "room" in the back. A three-season room can be added to an already existing concrete slab, patio or deck, meaning fewer structural changes are needed to attach the new space to a house. Often, an exterior door will separate the three-season room from the rest of the house.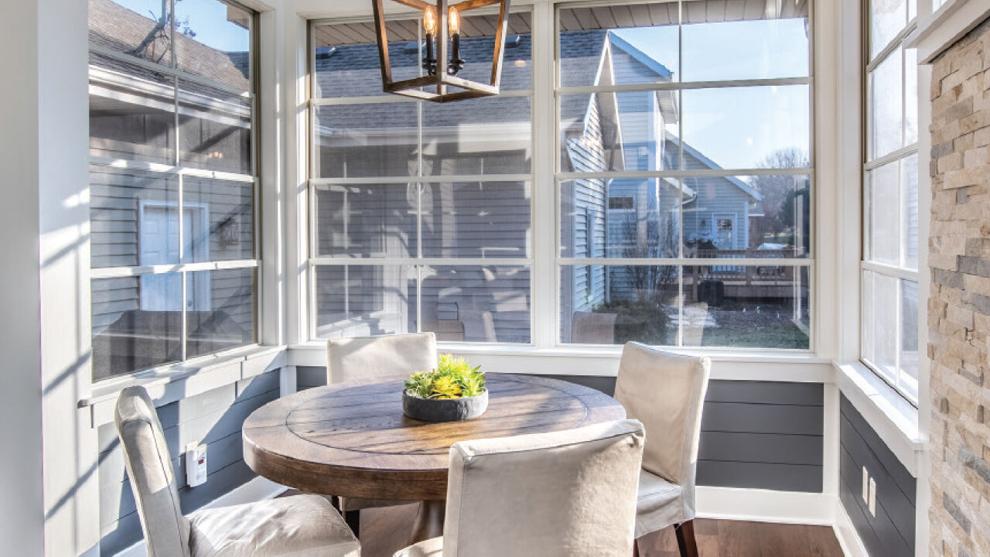 "The three-season room fits really well into the Midwest because it extends the summer months well into the spring and the fall seasons, times when people are really craving that outdoor connection," says Abe Degnan of Degnan Design-Build-Remodel. "Homeowners can still enjoy those cool spring days and chilly fall nights with a three-season room."
Degnan, a second-generation business owner, has built and remodeled many three-season rooms and knows about their adaptability and evolution. "I did a lot of three-season rooms back in the 1980s," he says. By the late 1990s and early 2000s, the trend shifted to either screened-in porches or four-season rooms.
Four-season rooms are considered air-conditioned and heated parts of the house rather than quasi-outdoor living spaces. They feature Energy Star-rated glass as well as insulated walls, floors and roofs in a temperature-controlled environment. They may require more robust concrete foundations, drywall and siding infrastructure to create an insulated structure able to withstand frigid Wisconsin winters.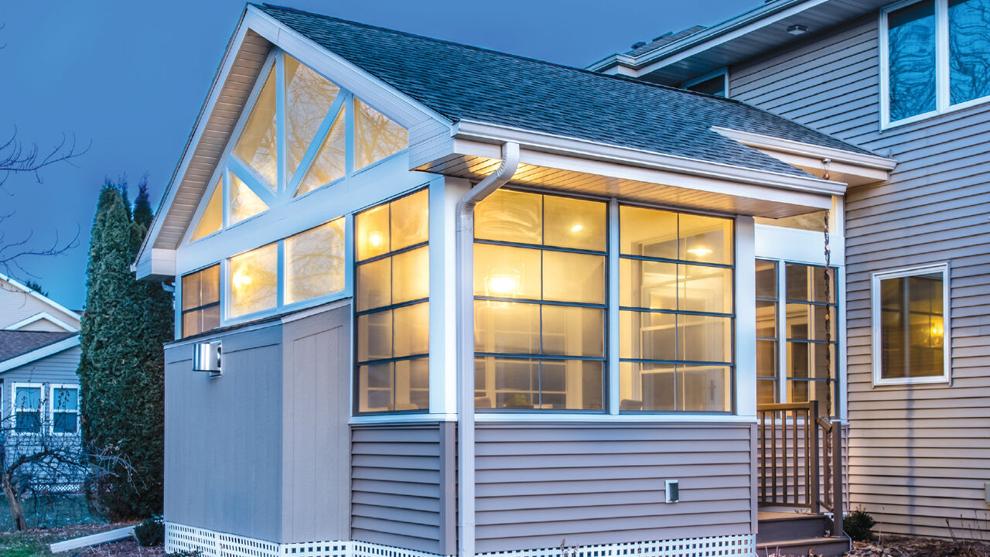 According to Ben Kripps, owner of Madison-based ClearView Sunrooms & Windows, four-season rooms are the clear favorite among homeowners today. He's been in the business since 2000 and opened ClearView with his wife in 2004. When he first started, the sales breakdown was 70% three-season rooms and 30% four-season rooms. Today, 95% of his sales are four-season rooms and 5% are three-season rooms.
"We had some ups and downs in 2020," Kripps says. "2021 was much more busy than what we could handle, and now we are busting at the seams. There has not been a winter slowdown, which is weird because that has never happened in the 22 years that I have been in this business."
Three-season rooms require precise craftsmanship and careful consideration of placement, says Degnan. "With a three-season room, you don't have drywall to cover up average framing. In a four-season room, drywall and siding cover up minor imperfections. With a screened porch or three-season room, virtually everything you do is seen," he says.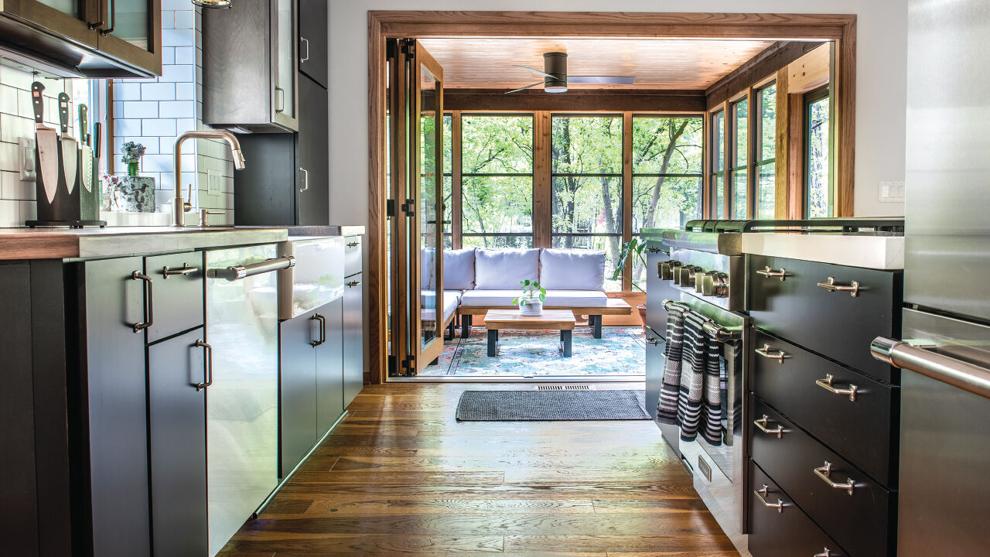 And you can easily use a three-season room eight to 10 months out of the year, especially if the room faces south for optimal sun exposure, both Degnan and Kripps say.
"South-facing is the best for the most use of a three-season room, but we build them facing any direction," Kripps says. "Our customers will use a space heater or an electric fireplace to take the chill off a three-season room."
Indeed, many homeowners are figuring out ways to make three-seasons usable year-round. "In the city of Madison, you can actually put in a woodburning fireplace and have that heat up the room," Degnan says. "In the suburbs and rural areas, the most popular option is putting in a gas fireplace. I have numerous clients that have three-season rooms that face south. Here, the amount of natural sunlight will warm up the room into the 50s, and only a little bit of extra heat is needed."
Two of Degnan's clients, Emily and Jason in Fitchburg, had an unshaded, south-facing back deck that was too warm in the summer, but not warm enough once temperatures dropped. "There was a really great deck on the back of our home," says Emily. "We loved this feature. However, we found that it was so sunny that we often didn't enjoy it. We were originally thinking of a screened porch, but the more we talked to Abe and the designers, the more we thought that a three-season room would actually work best for our family's needs."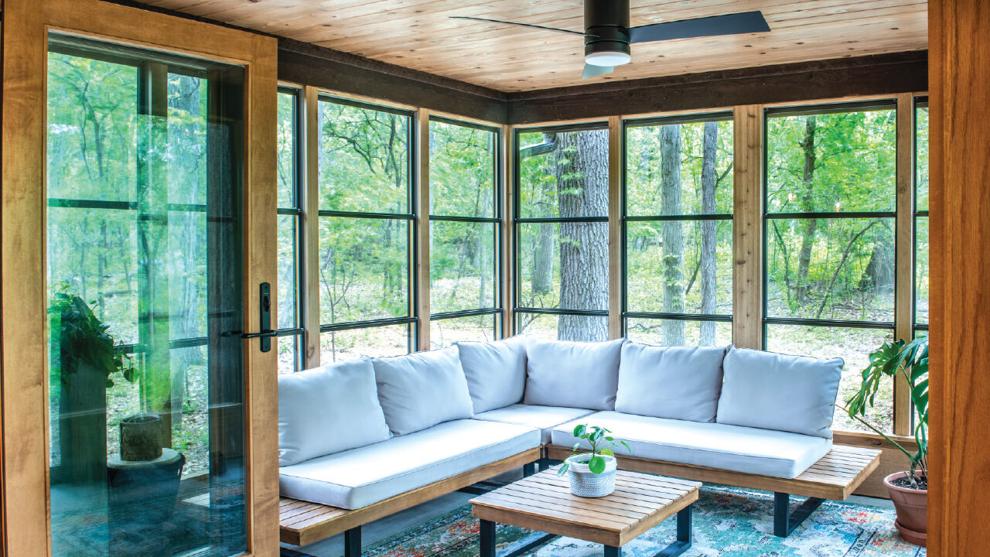 In the summer, they keep the three-season room's windows open, making it feel like an outdoor space. "During the cooler seasons, including winter, we put the fireplace on and thus have another family or sitting room. It's a really great, flexible space," Jason says.
The design of a three-season room can depend on the existing structure. "If the infrastructure is already there, then we might be going for a more minimalist look by trying to make it feel very open in the way the original porch was [and include] the biggest windows possible," Degnan says. When designing from the ground up, the homeowners might opt for a unique window design, a fireplace or a trim that is stained or painted.
"For us, having the ability to close off the room during the winter but completely open it during the summer was important, so we needed door and window options that did that," Emily says. "Since our folding door allows us to open the three-season room to the rest of the house completely, we have a whole other table and space for guests and family to gather," Jason adds.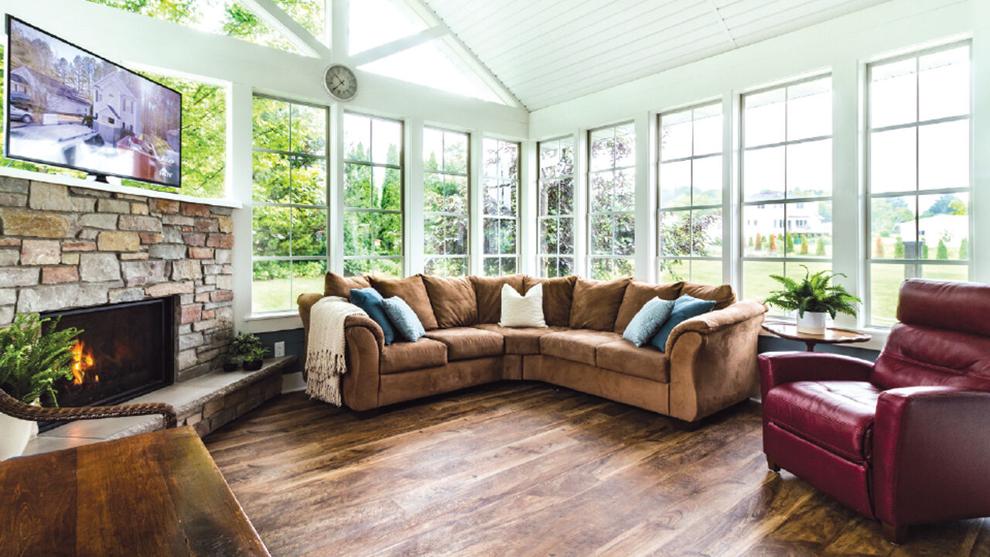 Degnan enjoys collaborating with clients on these kinds of projects, and he's seen it all. "We even built a two-story three-season room once," recalls Degnan. "That project might have been the most memorable."
Michelle Mastro is a home and lifestyle freelance writer.