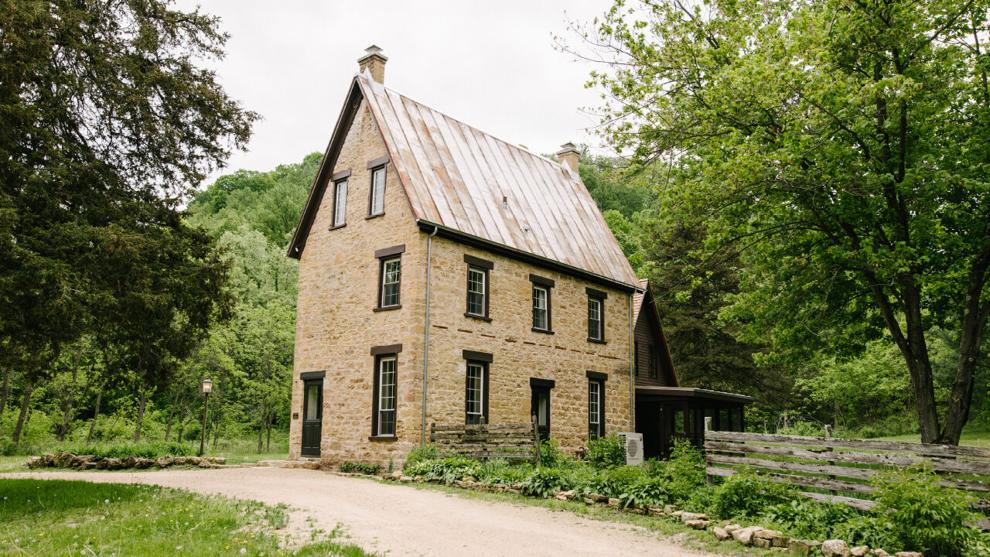 In the town of Arena, just 9 miles east of Frank Lloyd Wright's residence Taliesin, sits another, more modest structure that also stands in testament to its original owner. The Brisbane House has been completely refurbished and reopened as an Airbnb by an arts leader with experience and passion for historic preservation, Samantha Crownover.
Located at the end of Reimann Road just south of town, Brisbane House doesn't emerge from the pine forest at the road's last right turn so much as it leaps from the 18 acres of land on which it's built — a tall, narrow wedge that juts skyward. The three-story, 1,400-square-foot house was built in 1868 by William Henry Brisbane, a Baptist minister and former slaveowner-turned-abolitionist from Beaufort County, South Carolina. It is typical of houses in the South with its tall and narrow build, but it may be the only one of its kind in Wisconsin. That fact, along with its owner's history, captured Crownover's attention.
"I had my eye on Brisbane House for 25 years," Crownover says. "It's important to know your history so you can more deeply appreciate what's being created in the here and now."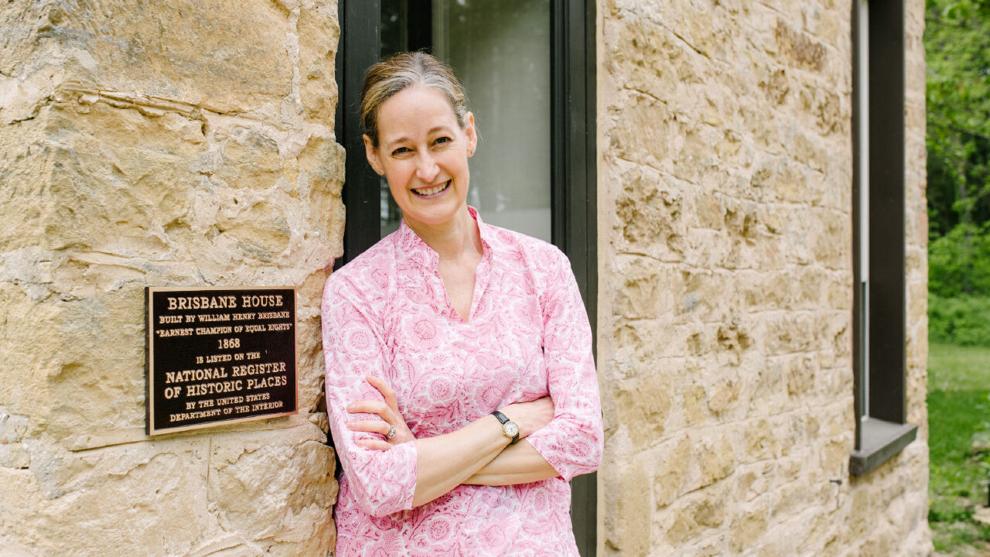 Born in 1806, Brisbane "inherited" 33 enslaved people from his elders. As a Baptist minister, he had trouble reconciling the tenets of his faith and the U.S. Constitution with the institution of slavery. In 1835, he brought the enslaved men, women and children north to Cincinnati, Ohio, granted their emancipation and bought land for them to help them settle into new lives. Eventually he came to Wisconsin, where he served as a minister in Madison, was chief clerk of the state Senate in 1854, and even acted as chaplain to the Second Regiment Wisconsin Volunteer Cavalry during the Civil War. Prior to his death in 1878, he also ran a tavern/inn in Arena (which didn't sell alcohol), as well as the local ferry on the Wisconsin River.
"Brisbane was an ardent abolitionist and his was the story I wanted to amplify," Crownover says. "But it was gravy to me to be able to work with 150 creative people to restore the building, including some crackerjack engineers and craftspeople who helped me create a beautiful interior space that will surprise and delight guests."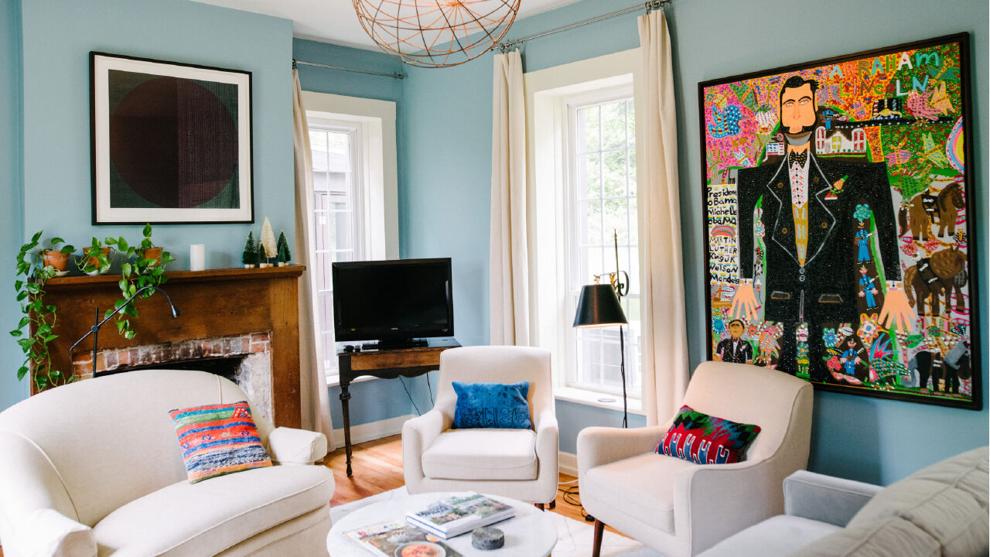 Crownover wears many hats, all of which tilt in artistic directions. She serves as a freelance art consultant and is executive director of the Bach Dancing & Dynamite Society, a chamber music group that dominates the classical calendar every June. She also was property manager first for the Bellevue Apartments on East Wilson Street and then the Baskerville condominiums on South Hamilton Street, both just off the Capitol Square, and has served as a board member and president of the Madison Trust for Historic Preservation. Crownover's husband, Bruce, is an artist and printmaker who has had a longtime working relationship with Madison's Tandem Press and its founder, the late William Weege. All of these elements came together to aid in the couple's latest restoration project.
Crownover purchased Brisbane House on April 1, 2021. As fate would have it, Weege's former home and studio is a five-minute walk through the scrub pines just south of Crownover's property. Weege, who died in 2020, willed the print- and paper-making equipment to Bruce Crownover, and now the couple, who live on Madison's west side, has multiple reasons to spend time in Arena.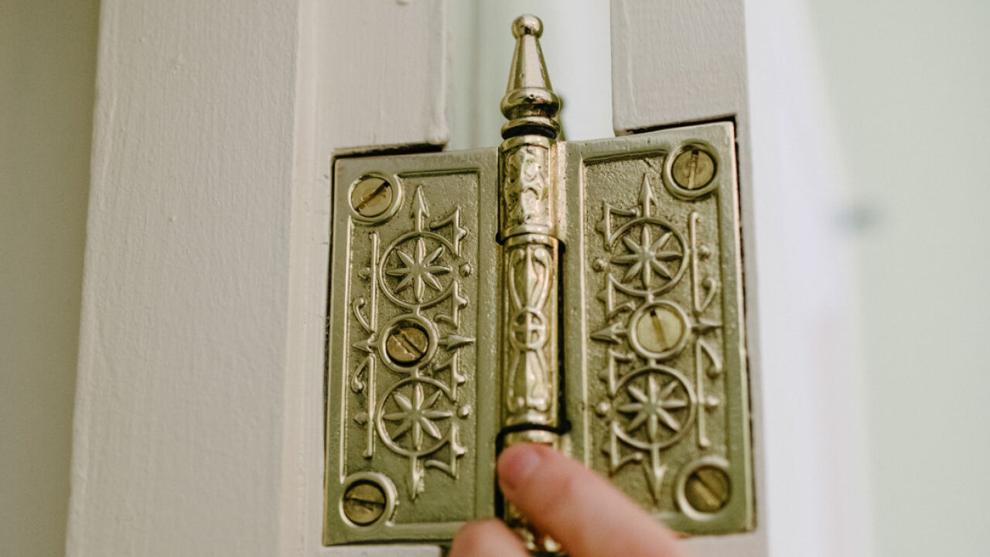 The house's previous owner was a 90-year-old woman who had health issues and was unable to keep up the property, meaning there was lots of work to be done. The attic was home to the largest bat colony pest control technicians hired to relocate it had ever seen, Crownover remembers. The limestone structure, made of blocks cut from the surrounding hills, was strong, but interior plaster was crumbling, fireplaces were inoperable and moisture was everywhere.
The project was so large, in fact, that Crownover enlisted the financial help of a silent partner, and the plan from the start was to renovate the home to generate income as a rental in order to help finance the restoration. Based on Crownover's past experience, she was able to comfortably work within the rigors of historic preservation guidelines to remodel the home well within federal and state standards. The property, purchased for $220,000, is now equipped with modern bathrooms and a contemporary kitchen to go with the home's narrow staircases and historic charm. It comfortably sleeps 10.
In an homage to Brisbane, the entire house is decorated with paintings and prints created by artists of color — with many of the works having been obtained from Tandem Press. On a nightstand in one of the upstairs bedrooms sits a photocopy of a postcard in a small glass and metal frame from Brisbane himself. It had accompanied a payment of $24 to support the "slave mutineers" on trial in 1839 for seizing the Cuban schooner Amistad as it attempted to illegally bring them to the U.S. (Congress banned the importation of humans bound for enslavement in 1808.) It's almost as if the abolitionist's presence still occupies the house, Crownover notes.
"I have always believed in historic preservation, and Brisbane House is my dream come true," she says. "I want this house to be a place of reflection, connection, celebration and a place for people to muster courage. For me, there will be no end to caring and tending to this house and property, something I will enjoy for years to come."
Michael Muckian is a contributing writer for Madison Magazine. Reach him at mmuckian@icloud.com.