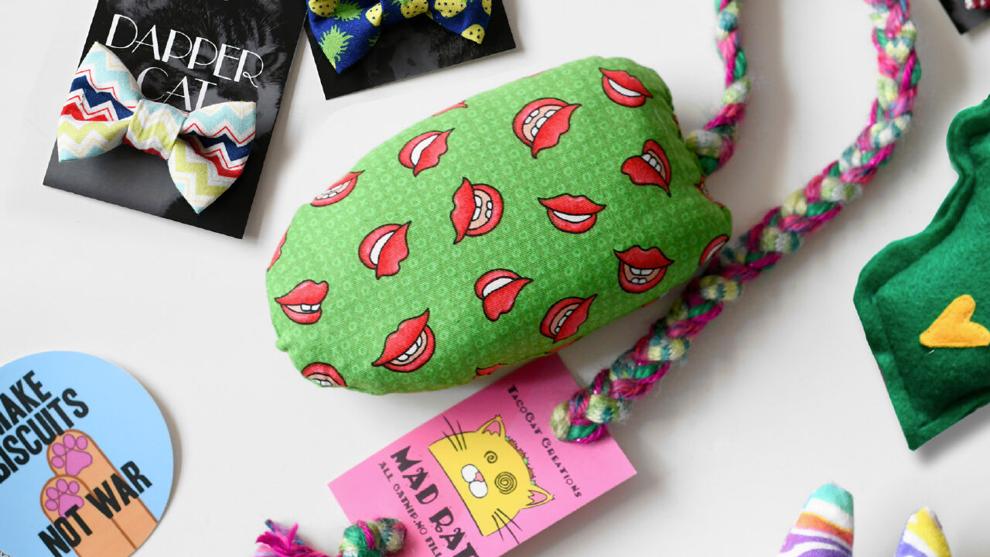 It may come as a surprise that Meagan Porter, owner of cat-focused TacoCat Creations, wasn't always a cat person. Porter has spent nearly 10 years making toys, accessories and more for felines, but she herself actually grew up with dogs.
It wasn't until she moved to Madison and adopted a cat from the Dane County Humane Society with her roommate that the obsession began.
"I'm sorry, dogs, but cats are way more complex than dogs. They have such varied personalities," Porter says. "You have to earn [a cat's] trust and get to know them and figure out what makes them tick."
Porter has been sewing since she was 4 years old. Her dad taught her how to sew to repair clothing. She later learned professional sewing skills in her college's costume shop for three years while pursuing an English degree.
TacoCat started as MadRat Cat Toys while Porter worked in a pet store in 2013. She talked with customers, looked at the products and realized there weren't a lot of options that were fully stuffed with catnip. Her venture started as a side project, with her employer offering to sell the toys. And from there it's only grown.
In 2016, she realized she was unhappy. When she thought about what would bring her the most joy, the answer was TacoCat. Porter slowly cut hours at the pet shop and filled her time with TacoCat until it became her full-time work. Her partner David Van, who manages Madison Makers Market, also works on the business full time.
"It's so scary to take a chance on yourself, especially when you're an artist or a maker," Porter says.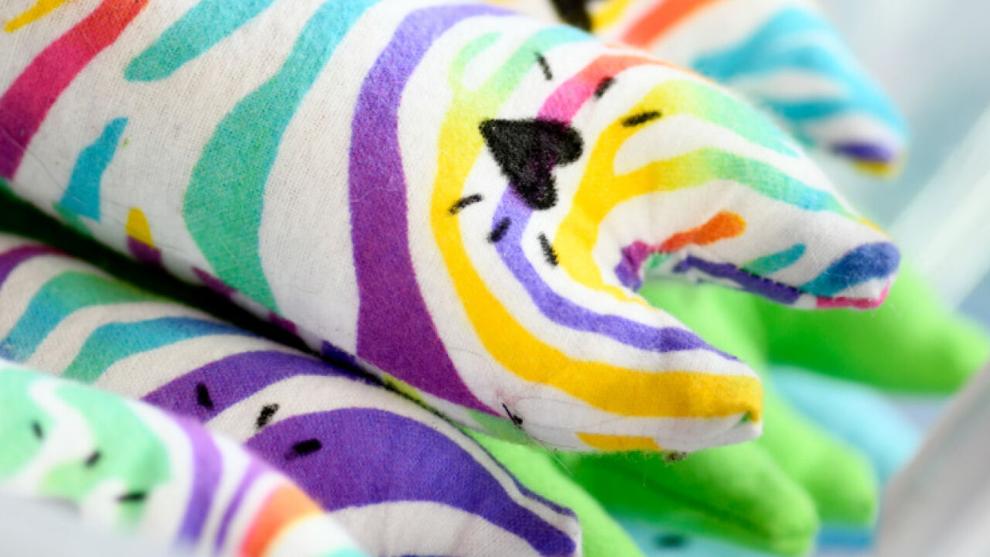 The name TacoCat comes from a time when Porter and Van were cooking in the kitchen. Porter started using funny terms of endearment to address one of her seven cats. "I was holding one of our cats and I was like 'Oh, Mackie, I'm going to fold you up and eat you like a little taco,' " Porter says. The name TacoCat, which is a palindrome (reading the same way backwards and forwards), stuck — from 2016 on, they've used it for the business.
Porter started with her classic MadRats: brightly colored, oval-shaped catnip toys featuring 18-inch-long yarn tails. Years later, the MadRats are still TacoCat's most popular items.
"It's nice to be able to provide things to cat parents that I know that cats are going to like, because cats can be so finicky," Porter says.
In addition to MadRats, TacoCat offers small toys called MewMice, Dapper Cat bow ties, catnip tackle bags called Fizzle Sticks, and catnip-stuffed beds called NipMats.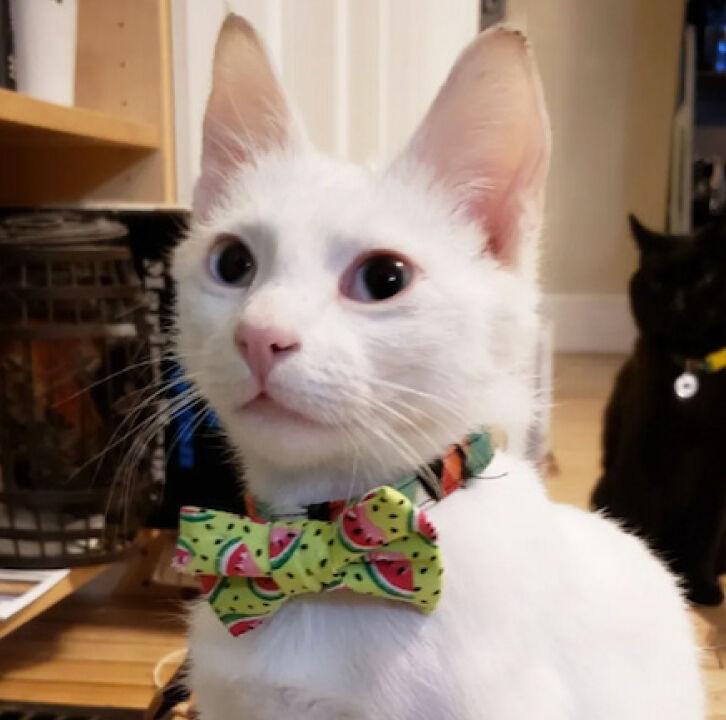 All of TacoCat's products are made by hand, and Porter buys her catnip from Canada in small batches to maintain the potency — she'll also dry some catnip from her personal garden. She says most conventional store-bought cat toys use catnip from China, but because of extended shipping times it can lose its potency faster. Her toys are also fully stuffed with catnip, unlike most of the toys found at bigger stores.
"If you open up a cat toy from Target, it might be this big thing of stuffing and this teeny little thing of catnip," Porter says. "You can tell if it's a lighter color [that] it's not as potent, and your cat can definitely tell. Their noses are crazy strong."
Porter says a lot of her cat customers continue playing with the toys for years and years. Even her own cats still play with a toy from seven years ago.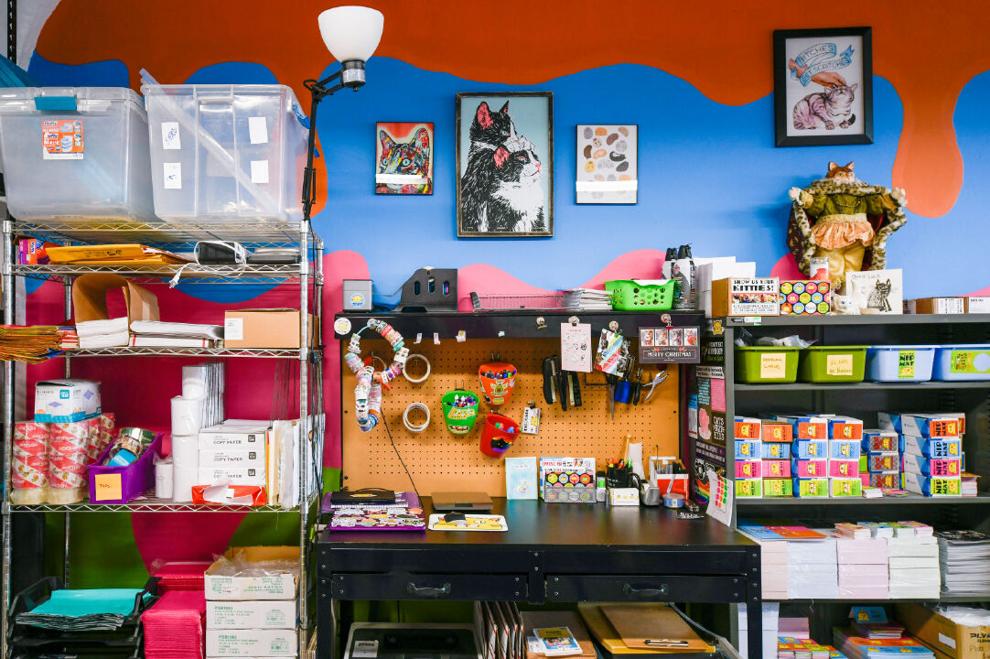 TacoCat's products are frequently found at local markets, and the company has a spot at the top of State Street during the Dane County Farmers' Market on Saturdays. Before the pandemic closed craft fairs, Porter went to 70 markets all over the U.S. in 2019, the most she's ever done.
"When you go to craft fairs, and even in the pet industry in general, it's so dog-focused," Porter says. "Even now people are so happy to see us at events because there's stuff for dogs, but still there's never anything for cats."
Events were her main source of income but the pandemic forced her to flip her business model completely by focusing on online sales. Now that fairs and markets are happening again, TacoCat is finding a way to balance both.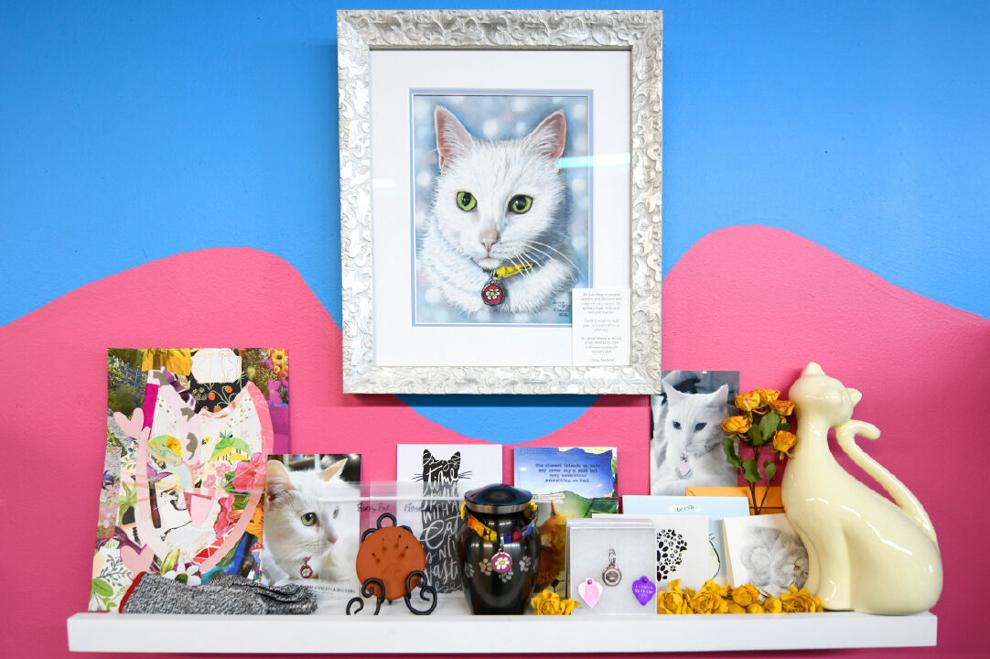 Porter says it's been rewarding to mail toys and think about how happy cats are going to be when they get them. She's had customers tell her that their cat has attacked the package as soon as it arrived because they could tell it was for them.
For Porter, the best part is interacting with other cat people. She says it's gratifying to hear stories of happy animals, like a 17-year-old cat that doesn't really play with toys anymore but would still play with TacoCat toys. "It's never going to get old for me to just hear stories about people's cats, and that was something that I really missed in the pandemic," Porter says. "Not only am I making people happy, I'm making their cats happy."
Find TacoCat Creations:
Maija Inveiss is an associate editor of Madison Magazine.