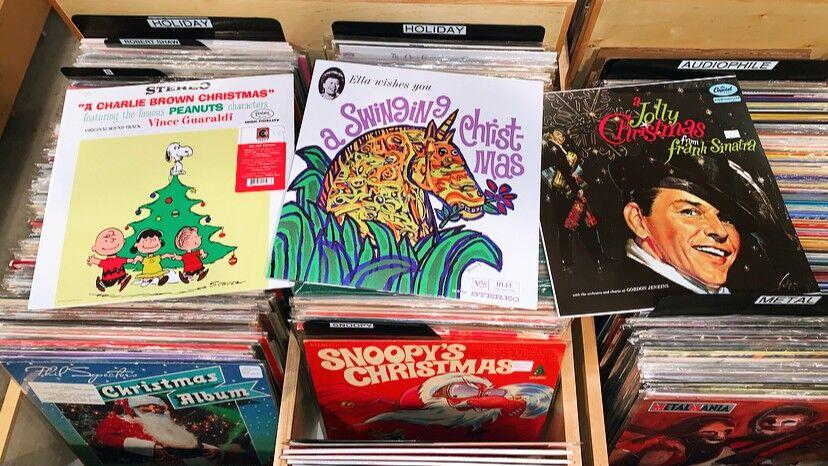 Party tunes
The key to any great party is a great playlist. For a groovy holiday playlist, local record store Strictly Discs recommends classic jazz albums: Vince Guaraldi Trio's "A Charlie Brown Christmas," Ella Fitzgerald's "Ella Wishes You A Swinging Christmas" and Duke Pearson's "Merry Ole Soul," all of which are available on vinyl in-store.
Strictly Discs also suggests having guests bring records from their own collection to create a collaborative playlist for the evening. If you're not playing music via a turntable, Strictly Discs says to cherry-pick the best songs off albums to create a more personalized tone and pace.
Additionally, Spotify offers a "group session" option that allows multiple users to actively add to the music queue, allowing everyone to add their favorites.
A Very Jazzy Holiday Playlist
"Santa Claus Is Coming To Town" by Duke Pearson
"Jingle Bells" by Ella Fitzgerald
"Skating" by Vince Guaraldi Trio
"Cool Yule" by Louis Armstrong
"Sugar Rum Cherry" by Duke Ellington
"Let It Snow" by Greydon Park Band
"Skating In Central Park" by Bill Evans
"Sleigh Ride" by Duke Pearson
"Good 'Swing' Wenceslas" by the Count Basie Orchestra
"O Tannenbaum" by Vince Guaraldi Trio
"I've Got My Love to Keep Me Warm" by Ella Fitzgerald and Louis Armstrong
"My Favorite Things" by John Coltrane
"Greensleeves" by Vince Guaraldi Trio
"Winter Wonderland" by the Chet Baker Quartet
"What Are You Doing New Year's Eve?" by Ella Fitzgerald
Jolly Sips
Offering a variety of beverage options is sure to make for a merry time. Plain Spoke offers "all the craft and all the cocktails" in a ready-to-drink can. Flavors such as Moscow Mule, Brandy Old Fashioned, Bourbon Smash and Mojito are available at liquor stores all over the isthmus. Additionally, many local brewers put their own spin on holiday beers. For a horchata-inspired stout with notes of cinnamon sugar and vanilla, try G5 Brewing Company's Falles brew. Or for a chocolate oak and licorice flavor, go for Working Draft Beer Company's Lumber Mouth stout. Both beers are available at Madison-area craft beer retailers.
Part of the fun of a holiday party can be making your own libations. For a fun activity, have guests bring the ingredients to make their own favorite seasonal cocktail or shot, and take turns making and serving the drinks. Similarly, guests can bring their favorite wine or craft beer and participate in a taste-off to vote for the best beverage.
For cheery mocktails, simply mix cranberry juice and sparkling water or ginger ale, rim the glass with granulated sugar and garnish with mint. Or make an apple mule by combining equal parts apple cider and ginger beer, mixing in a splash of lime juice.
Festive Decorations
While you can always try your hand at DIY holiday decorations, there are also plenty of local places to get decor. Orange Tree Imports sells Wisconsin-shaped food serving boards and hand towels that double as a unique decorative element. To bring a homey feel to a gathering, burn a festive scent from a local candle maker, such as Wisconsin Candle Company, Ambrosia Flame Company or Fox Ridge Candles.
 

View this post on Instagram

 
Adding a holiday photo booth can spruce up your place. Using tinsel or streamers, create a backdrop, then add props such as Santa hats, reindeer ears and more. Snap photos with phones, or have a disposable camera and share the pictures following the party. Another festive touch with a giving spirit is to set up a small tree or other holiday symbol where guests can place cans of food, books, winter gear or other goods to be donated by the host.
Games & Entertainment
To keep guests entertained, there are always classic activities like trivia or a white elephant gift exchange. Take these games up a notch by doing themed trivia, like holiday songs or movies, or making questions about the guests themselves (ex. "What was Abby's first car?"). Mix up white elephant by doing a don't-judge-a-book-by-its-cover exchange. Guests can bring wrapped-up used books with a few descriptive words written on the gift tag. Exchange the gifts based on what piques peoples' interests.
If you're looking for board games, I'm Board! Games and Family Fun in Middleton and Sun Prairie has a variety of party and group games, including popular options such as Codenames, Telestrations and Wavelength, all perfect for social settings and larger groups. "One of the things that are more popular again and back in is murder mystery parties," says Margaret Rasmussen, General Manager of I'm Board! The store sells Murder Mystery Party, a dinner party game for 6-8 people.
Merry Bites
For holiday gatherings, it's good to have plenty of small bites on hand for all taste palates. Charcuterie boards are always a crowd-pleaser, especially with cheese from beloved local shops such as Wisconsin Cheese Mart and Fromagination. To find new dishes to try, Madison-based food magazine Edible Madison shares recipes for dips and hors d'oeuvres, including cashew aioli, rosemary and maple spiced nuts and leek milk bread rolls.
For sweeter treats, Kilwins offers holiday bundles of peppermint bark, chocolate-dipped pretzels and popcorn tins. Or make your own festive chocolate pretzel bites, by putting Hershey's kisses or Rolos on a pretzel twist, and letting them melt in the oven at 350 degrees for a few minutes. Then, place a (red or green) M&M in the center, and let cool in the fridge before serving.
Abby Bradbury is an editorial intern at Madison Magazine.