Bald eagles carved a blue sky overhead as we unloaded our bags from the car in the St. James Hotel parking lot in Red Wing, Minnesota. Nestled tight against the river since 1875, the historic boutique hotel has traditionally greeted riverboats and train passengers at the adjacent depot. It already felt like the best place in town to spot eagles — too many to count, I told my husband. "It's been that way most of the drive up," he pointed out, and he was right — part of what makes Red Wing an ideal road trip is the drive itself.
Red Wing is around four hours northwest of Madison, depending which route you take, and much of that distance can be traveled on The Great River Road, a National Scenic Byway Route that crosses 10 states. It hugs Wisconsin's share of the Mississippi River all the way up through Prairie du Chien and La Crosse, then over the Minnesota border through Winona and on to Red Wing. We could have stopped at any number of places along the way, but now that we'd arrived in the charming, industrial river town and spotted the many shops and eateries within steps of the St. James — including Red Wing Shoes, which my husband was already eyeing up across the street — it was obvious we'd have plenty to explore here in town.
Lodging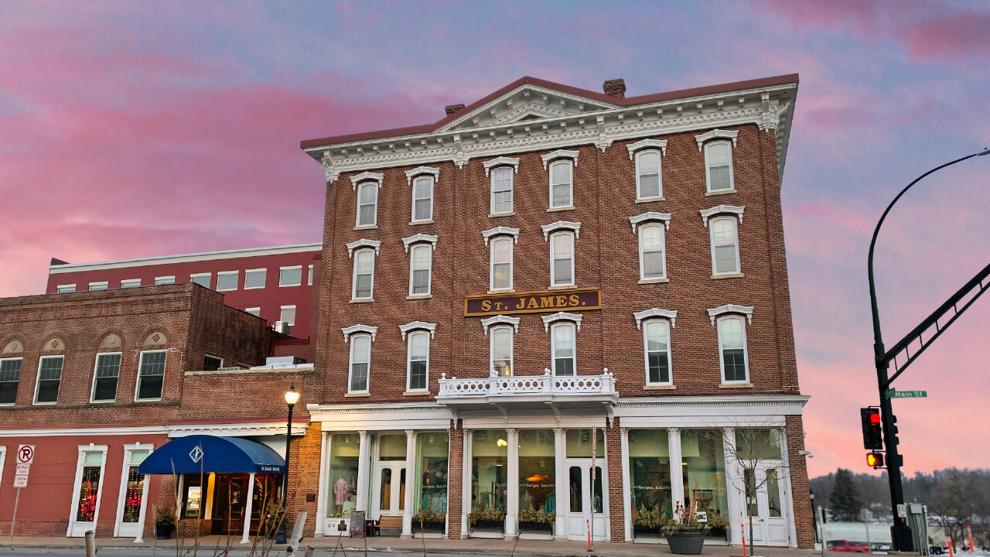 Although there were many tempting bed-and-breakfast options (we'll be back), the St. James Hotel is a destination in itself, and we probably could have spent the entire weekend inside its walls. Built in 1875, it was considered luxurious for the time, with steam heat, and hot and cold running water, as well as a grand entryway, posh dining room and ornate library. After several renovations and expansions, the St. James is now a combination of preserved original sections and modern additions that have brought boutique shops, a salon, a spa and the American Ski Jumping Hall of Fame and Museum. Each of the 67 guest rooms and luxury suites is named after a riverboat and uniquely decorated, but all maintain the Victorian charm while incorporating modern amenities like phone-charging ports.
On-site dining is on point at Scarlet Kitchen & Bar, which serves breakfast, lunch and dinner at tables that overlook the river and also features a full bar and an outdoor patio. Be sure to pick up a brochure from the lobby for a self-guided tour of the entire hotel — the original rooms are easy to miss if you're not looking for them.
Dining and Drink Within Blocks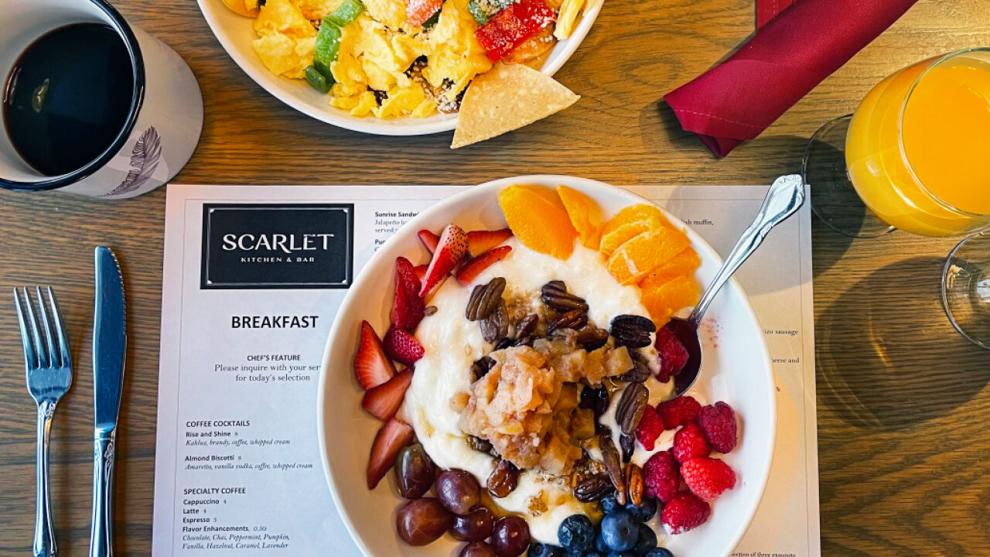 First thing in the morning, Scarlet's "The Swirl" yogurt bowl is a great choice — lush with multiple fruits plus apple cinnamon compote, sticky pecans and creamy, honey-drizzled yogurt. But you should definitely take a walk over to the award-winning Hanisch's Bakery & Coffee Shop for an apple fritter or bacon maple doughnut — think of it as pre-fueling for the morning hike you'll want to take before the shops open for business. We also liked Liberty's Restaurant & Tavern with its cozy vinyl booths and classic wainscotting, even before we tasted the Belgian waffles or eavesdropped on some of the best local chatter we caught all weekend. If you can't hit Liberty's until later in the day, that's fine, too — the establishment is known for its specialty pizzas, as well as its au gratin potatoes served piping hot and its house salad dressing, a Parmesan peppercorn with dill that immediately won over this non-ranch-loving salad eater.
For lunch, we struck gold with Mandy's Coffee and Cafe, where we each ordered a soup-and-sandwich combo and then argued over whose was tastier. (I still maintain my veggie sandwich with hummus and banana peppers on cranberry wild rice bread won out over his Italian panini.) But the all-around winner for best eats, despite steep competition, had to go to Staghead Gastropub, a dark and dreamy, brick-lined restaurant and bar. With an emphasis on sourcing locally and seasonally, the menu varies — but hopefully you can catch the Brussels sprout salad, which might be the best I've ever had. The salmon burger was also a stunner — three fingers thick and perfectly crisped on the outside with a savory remoulade and a buttery bun. Given the can't-miss dishes, cozy atmosphere and extensive specialty drinks and craft beer menu, you'd better snag a reservation.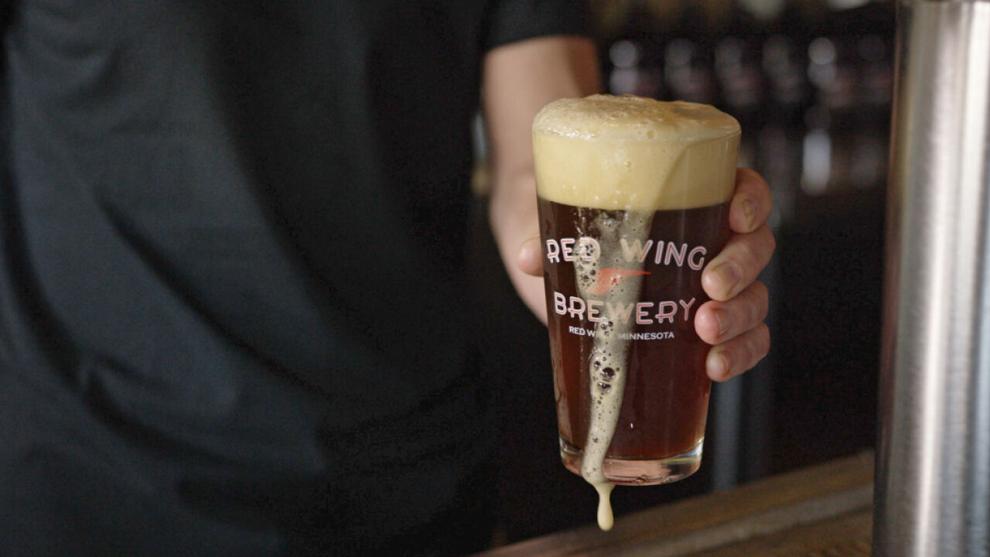 But if you strike out — or want to hop back in the car for a short drive — a few enthusiastic locals recommended the Red Wing Brewery (for its pizzas), the Rancho Loco Grill & Bar (for its crafted tequila drinks), Bayside Tap & Steakhouse (for its steaks) and The Barrel House (for its live music). For after-dinner drinks, you can always return to the St. James and head straight downstairs to The Port, a cozy, grotto-style bar. On your way back to your room, stop back into Scarlet, where desserts are far from an afterthought — in fact, there's a pastry chef on staff. (Troupers that we are, we managed to sample every dessert on the menu.)
Shop Around
Red Wing may be arguably best known for Red Wing Shoes, a must-stop on my husband's itinerary. He'd coveted a pair of the prized footwear for years and had already done his research, but he still went through the paces at the factory store, with its computerized measuring system and knowledgeable staff. As a browser, I had plenty to keep me occupied, with the official Red Wing Shoe Co. Museum upstairs, various historical displays throughout the store and probably one-too-many selfies with the "world's largest boot" — a more than 20-foot-tall, size-638-and-a-half hunk of footwear. As payback, my husband let me linger longer than he probably wanted to in Fair Trade Books, a stellar independent bookshop with a remarkably robust inventory of new and used titles — and one delightfully curmudgeonly dog named Reveler. We also took home some treats from Red Wing Confectionery after watching them make the chocolate through the window-lined kitchen behind the register, and we found plenty more shopping right next door (including the Uffda Shop, Whimsey's clothing boutique, Duluth Trading Co. and Red Wing Olive Oils & Vinegars).
Although you can find all the shopping you'd ever want downtown, it would be a mistake not to continue on to Old West Main Street to check out more shops — especially The Pottery Place, a towering brick mall and the former home of the famous Red Wing Pottery stoneware factory, now filled with antiques, gift shops and food, including Godfather's Pizza and the Pie Plate Café.
Explore Some More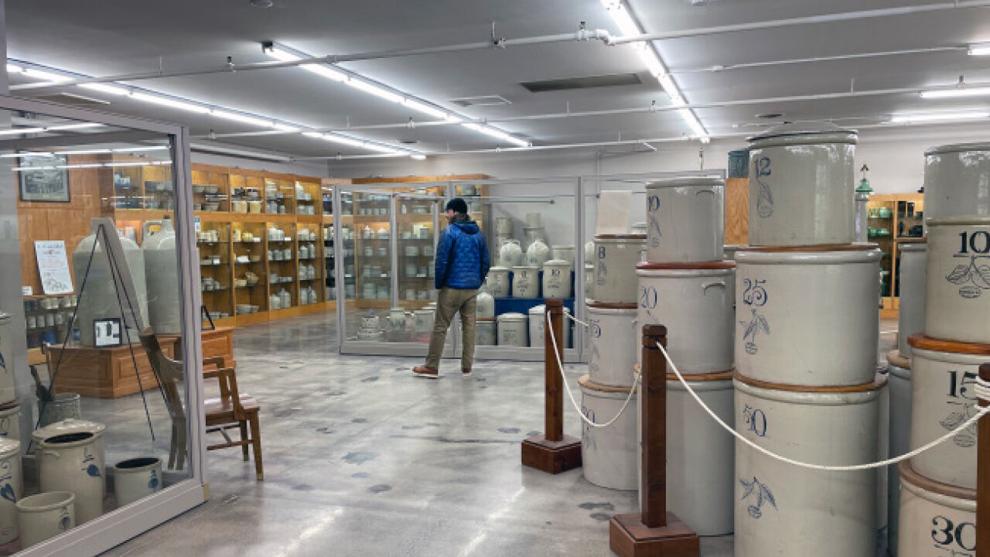 If The Pottery Place leaves you wanting more, you can brush up on its history by visiting the Pottery Museum of Red Wing across the parking lot. Continue even farther west out of town and you'll find the Anderson Center, an artist residency with an art gallery and outdoor sculpture garden. Back downtown, you can also view art at the Red Wing Arts Center (located inside the depot next to the St. James) and catch a show at the famed Sheldon Theatre of Performing Arts. Continue wandering up Third and Fourth streets for glimpses of grand houses in another historic district (Red Wing has five total), as well as bed-and-breakfast options for your return trip, including Moondance Inn and Pratt-Taber Inn. Then make your way up to the top of the bluff to visit the Goodhue County Historical Society.
Outdoor Option
Remarkably, one of the best views of the Mighty Mississippi and Red Wing itself also happens to be accessible within walking distance of the St. James. About a half-mile away, you'll find the trailhead for the He Mni Can-Barn Bluff lookouts, which are connected by several trails — it's a hike, but the view is well worth it. If you don't mind hopping back in the car, Frontenac State Park is only 15 minutes east and a short drive up to the top — from there, you'll find a lookout and an easy, flat trail that runs parallel to the river and offers breathtaking views from high above.
Must-See
We spent much of our 48 hours debating the best spot to watch bald eagles. We saw plenty at the hotel and on our hikes, then decided the winner was Colvill Park, just at the edge of town, where an unfathomable number of them swirled and swooped, diving for fish and even small ducks mere feet from where we sat. We'd hoped to visit the National Eagle Center on the drive back home, about 30 miles south of Red Wing, but it was closed for a $27 million renovation. We asked several locals for their opinions — in the end, it was a woman at the St. James who summed it up best. "Pretty much anywhere. You can't not see them," she said, then added, "And you never get tired of it."