Driving down Ottawa Beach Road toward Lake Michigan with views of Lake Macatawa on my left, all I could feel was eager anticipation for what I was about to see. Pictures of a gorgeous red lighthouse had been a main motivation to visit Holland, but I wasn't sure if it was going to live up to my expectations. When it finally came into view, my jaw dropped.
The fire-engine red popped in contrast to the bright blue sky and expansive Lake Michigan. I got out of my car to wander the beach, and it was early enough in the day that it was just me and a couple fishermen. It was a peaceful, pretty scene. The Holland Harbor Lighthouse, affectionately known as "Big Red," was constructed in 1907 with a gabled roof to reflect the Dutch influence that can be seen throughout Holland. There were plans to abandon the lighthouse in 1970, but the Holland Harbor Lighthouse Historical Commission took over for the Coast Guard and maintains it. Big Red is now the most photographed lighthouse in Michigan, which boasts 129 total lighthouses.
Big Red is part of Holland State Park, a popular destination with trails along Lake Michigan. For one of the best views in Holland, climb the 200-plus stairs up to Mount Pisgah, the top of a large sand dune. On one side you can see the lighthouse looking out over the depths of Lake Michigan, and on the other, a view of Lake Macatawa, beachy homes and greenery.
Holland has a rich Dutch history, and there's so much to learn at every turn. But for those who aren't particularly interested in the traditions of the Netherlands, there's still a lot to love about Holland, including its natural beauty, attractions and food scene.
Must-Attend Event
I grew up going to summer camp in lower Michigan, but I never had a chance to explore the many beach towns along Lake Michigan. I had heard of Holland, largely because of its annual Tulip Time Festival, which is scheduled for May 7-15 this year. Hundreds of thousands of tulips grow throughout the entire city, from the streets of downtown Holland to the various parks and gardens. It's something special to witness and is one of the area's biggest tourist attractions.
Influence From the Dutch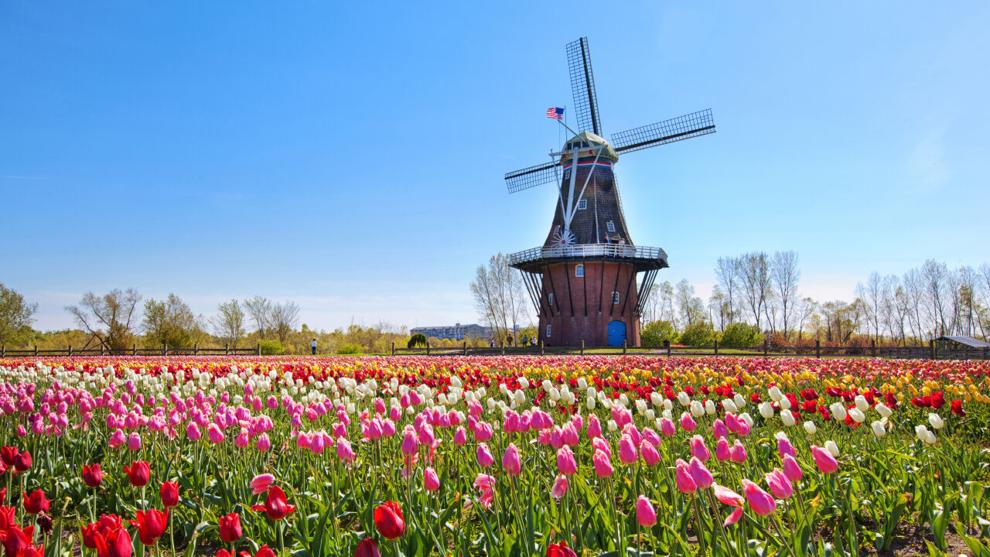 Tulip Time honors the heritage of the town, founded in 1847 by Dutch immigrants, but that's not where the Dutch influence stops. Windmill Island Gardens has a Dutch carousel, gardens, Amsterdam street organ, gift shops and a bridge, but perhaps the most impressive element of the gardens is De Zwaan, a windmill originally from the Netherlands. I first saw De Zwaan from a distance at the Window on the Waterfront Park along the Macatawa River. I knew I needed to get closer and learn the history behind it. It turns out the functioning, five-story windmill was built in 1884 using pieces from older mills. It was damaged during World War II when it was used as a lookout.
De Zwaan, which means "the swan," was dismantled in June 1964, and its 7,000 pieces were brought to the U.S. by steamship and reconstructed in Holland. It is now the oldest authentic, working Dutch windmill in the U.S. One of the coolest things was looking at one of the original blades of the windmill on the ground level. I thought it was a bench upon first glance, but the sign pointed out that if you look closely you can see bullet holes in the blade from the war.
For more Dutch-inspired activities, visit Nelis' Dutch Village, a theme park featuring kids rides and a petting farm. There are also demonstrations that teach guests Dutch dances, how to make stroopwafel and cheese, and how to carve wooden shoes. The De Klomp Wooden Shoe & Delftware Factory also creates wooden shoes using authentic Dutch machinery, and the factory employs a hand carver who was trained in the Netherlands. Factory workers hand-paint delftware, a special style of blue-and-white ceramics. De Klomp is connected to Veldheer, Holland's only tulip farm and perennial garden.
Coffee Break
Kin Coffee and Craft House is convenient for caffeine seekers making their way to morning adventures at Holland State Park. I opted for a specialty brew, Wake Up Rosie, a rose and cardamom latte. The interior is incredibly cozy if you want to zone out there with a good book.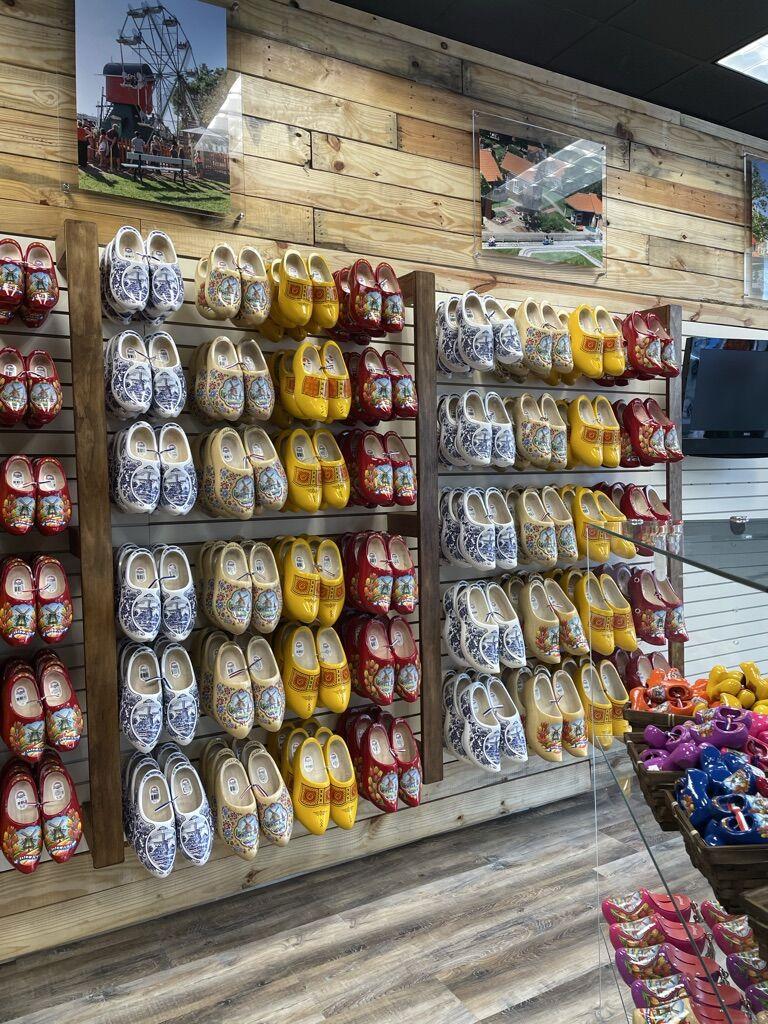 Shopping
Downtown Holland is the hub for local shopping. You could spend an entire day just browsing. A few of my favorites are Apothecary Gift Shop (a business with roots dating back to the late 1800s), jb and me (a women's clothing spot owned by a mother and daughter), The Bridge (a fair trade gift shop), Gezellig Home (a cozy plant and home decor boutique) and Cherry Republic (a food store specializing in Michigan cherries). Nelis' Dutch Village also has a store if you're not interested in going to the amusement park but want to check out delftware pottery and wooden shoes.
Local Brews
Beer is a big deal in Holland and is yet another thing the town has in common with its Dutch namesake. New Holland Brewing Co., which sells beer across the country, is one of the most famous (and oldest) Holland breweries — just look for the windmill logo. There's also Big Lake Brewing, Brewery 4 TWO 4, Hopland Brewstillery and Our Brewing Co.
Dinntertime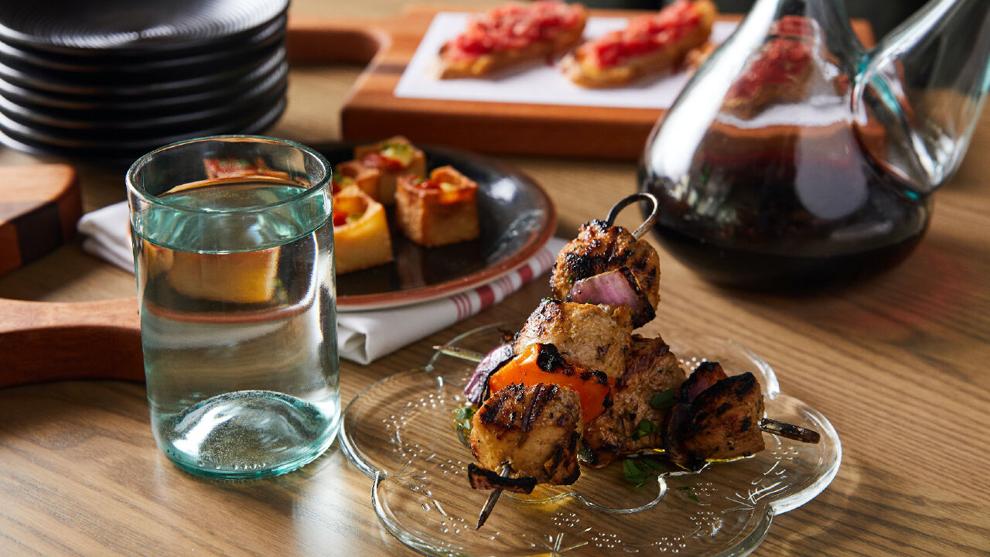 After asking the front desk staff at the Holiday Inn Express Holland — a hotel with an exterior reminiscent of a brightly colored Dutch home and a swimming pool shaped like Michigan — for restaurant suggestions, they recommended Crazy Horse Steakhouse & Saloon. The place was packed on a Friday night, so I was lucky to snag a seat at the bar. Crazy Horse has been named best restaurant by the Holland Sentinel 16 years in a row, and it's been locally owned and operated since 1997.
I started with a hard cider from Crane's Winery, which sources the apples from its own orchard about 20 minutes from Holland. I then opted for a steak dinner, which came with fresh baked bread that was still hot when it came out, and chicken corn chowder, the restaurant's signature menu item. I'm normally not a chowder person, but this soup was one of the best I've had. It might be worth stopping in Holland just for the chowder alone.
On my second night, I dined at Poquito in downtown Holland. Poquito is one of four restaurants in the 1983 Restaurants Group owned by chef and restaurateur Lucas Grill. Poquito's delicious cocktails and intriguing tapas reminded me of Tory Miller's now-closed restaurant Estrellón. I selected papas bravas, crispy Brussels sprouts, and shrimp and scallop ceviche on my only visit, but I would probably eat my way through the entire tapas menu if I lived closer.
Down the Yellow Brick Road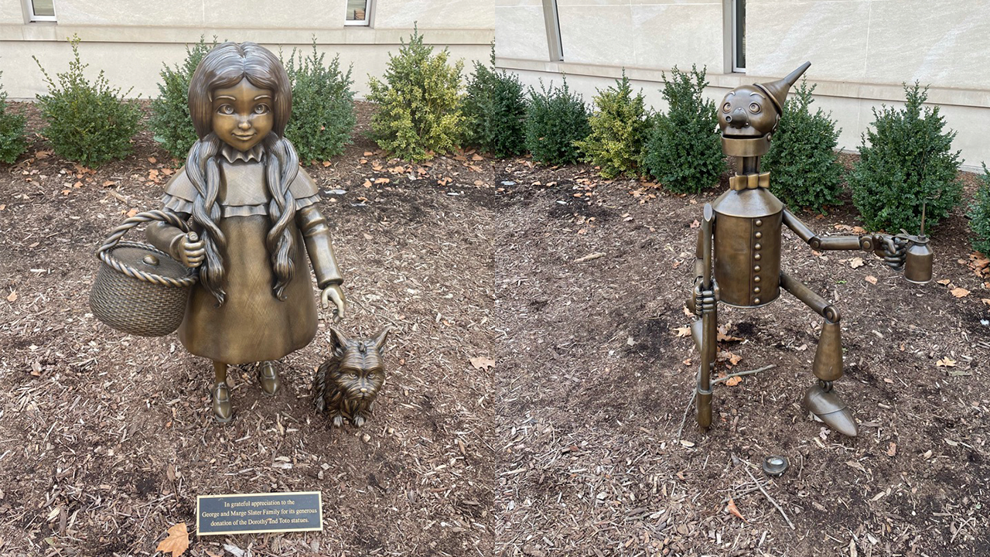 Centennial Park is home to a living mosaic cover of the book "The Wonderful Wizard of Oz." The author, L. Frank Baum, used to vacation at a family cottage in the area, and some believe he wrote parts of the classic novel while in Michigan. Across from Centennial Park is a continuation of the exhibit, with six bronze statues of characters sculpted from the illustrator's original renderings.
A Sweet Note
For those with a sweet tooth, deBoer's Bakkerij needs to be added to the trip. The bakery has two locations, and both have house-roasted coffee, breads from the Netherlands and familiar treats. I would suggest going early in the day for the best selection, but I went around lunchtime and was still able to get the Friday and Saturday special, a pecan sticky bun. For an after-dinner treat, there are a bunch of options, but the recently opened Bowerman's on 8th is unique. Michigan is known for blueberries, and so is Bowerman's, which incorporates blueberries into many bakery and cafe menu items. It's owned by Bowerman Blueberries, a U-pick farm in Holland with more than 90 acres of blueberries. I had a blueberry lemon petit four, a layered cake that helped end my trip on a sweet note.