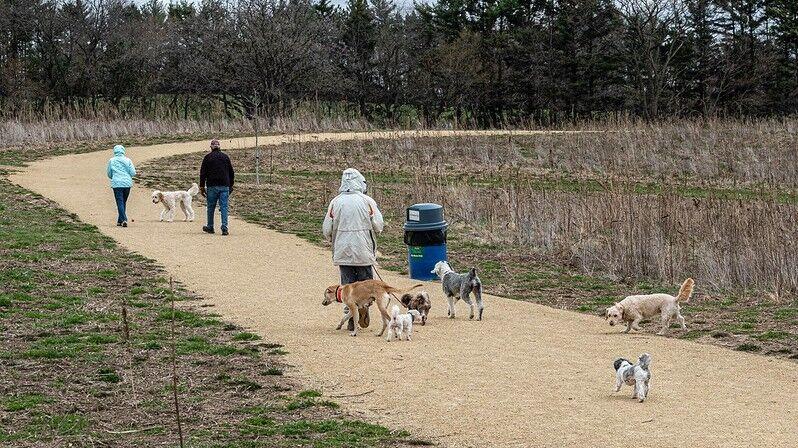 Dane County Parks is hosting a celebration event for its newest park — the eighth off-leash park in the system — Thursday for you and your furry friends.  
The event marks an official opening party for Anderson Farm Dog Park, but the park is open for public use. The park opened in December, so the county decided to have the event in spring when it was warmer, Joleen Stinson, interim parks director, says.
The county decided to open another park since they are incredibly popular with residents in the area, Stinson says. The department works at monitoring what areas in the county could use more off-leash dog parks to offer more in the county.
"People love to get their dogs out to off-leash parks," Stinson says. 
Anderson Farm Dog Park is a 36-acre dog park with 2.5 acres just for small dogs. A recently paved trail also connects the dog park to Arthur Sholts Memorial Woods and Oregon's South Main Street. Off-leash dog parks are fenced in, so dogs can run around and socialize. 
"We are excited to open a new dog park at Anderson Farm County Park," Dane County Executive Joe Parisi says in a statement. "We continue to invest in and add new features to Dane County's parks so they can be enjoyed for many years to come. This new dog park will provide visitors and their furry friends a new location to exercise and take in the outdoors."
The event is 4-6 p.m. Thursday at the dog park at 804 Union Road. Karben4 Brewing will serve craft beers and non-alcoholic beverages and will be donating 10% of profits from the event to the the park. The Excite Bite Dog Treats Truck from The Crazy Dog Mom. Cedar Sioux Photography is taking portraits of you and your dog and Parisi will cut the ribbon at 5 p.m. 
Permits for dogs
For dogs to attend the event, they must have a permit, which is required for all dogs on Dane County Parks properties, whether you're visiting an off-leash dog park or going through a walk on a leash in the woods. 
Permits are available to purchase online here and annual dog permits cost $35 plus $17 for every additional dog.
To learn more about other dog parks in the Madison area, click here.