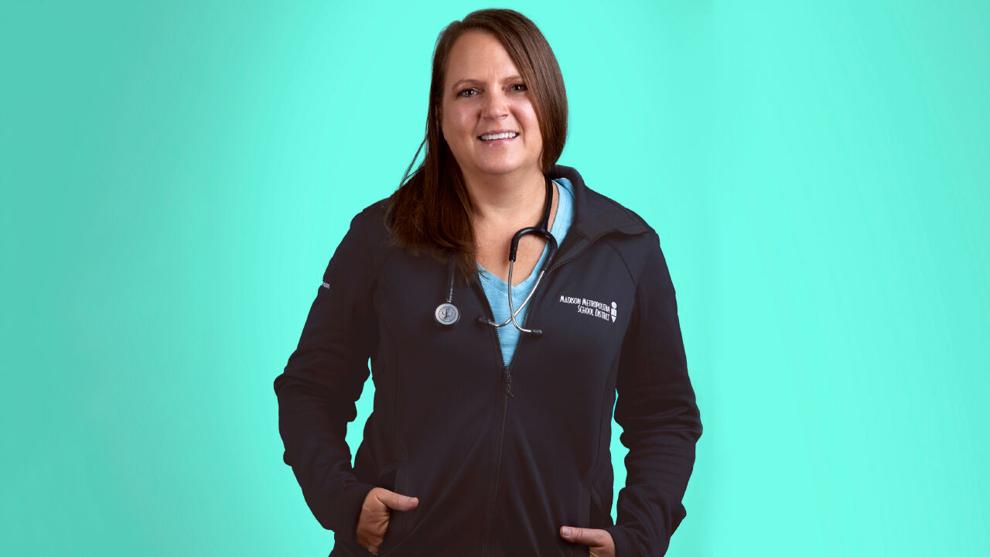 Overseeing the health services program for the Madison Metropolitan School District — with 125 nursing staff serving 52 schools and 27,000 students in total — is no small feat. Layer a health care crisis on top of that and the need for a strong, capable leader becomes critical. Kari Stampfli's co-workers say she's perfectly suited for her role as the director of health services for MMSD.
"[She] constantly works as a translator between health services and district administration," says nominator and colleague Jill Speer. "[Her staff sees] her fighting for those health care standards [and] appreciates the strong lens she provides in being a really reliable source of information."
The appreciation is mutual. Stampfli notes the challenges her team faced while fielding questions, doing outreach and providing guidance specifically around COVID-19.
"Our schools shut down, but our nurses did not stop working. … We honestly haven't had a day off since the pandemic started," says Stampfli. "The staff that I work with, they consistently, always step up when there's a need. It's not a 'no,' it's 'how can we do this, how can we best serve?' "
Early in the pandemic, Stampfli instituted a daily Zoom check-in for all health services staff.
"[The Zoom calls] provided a sense of camaraderie and structure and prevented us from feeling so isolated at a time when it would be really easy to feel isolated," says Speer.
They also led to greater cohesion between schools.
"We realized we had to jell and work as a team to serve the entire MMSD community, so that we weren't just thinking, 'This is my school and I'm responsible for this school community,' " says Stampfli.
Now years into the pandemic, Stampfli remains committed to working as part of a cohesive, supportive team and not returning to old practices.
Stampfli used Elementary and Secondary School Emergency Relief grant funds to build a COVID-19 response team, and she created a surge nurse position to cover staffing shortages and illnesses in an effort to get nurses back into their typical roles — which go far beyond putting on Band-Aids and handing out vomit bags.
Nursing assistants provide the lion's share of hands-on care to students. Meanwhile, nurses are involved in providing case management, coordinating care, getting families access to insurance and health care and assisting with medical appointments. Additionally, mental health care is a major component of their work.
"The vast majority of our health office visits are those kinds of visits where kids are coming out of class because they are overwhelmed or stressed or having anxiety," says Stampfli. "It's a much bigger role than I think people realize."
Stampfli believes her entire team deserves top nurse status. "I feel like I need to recognize everyone else around me because I truly feel to be a great leader, usually you have a great team that is working beside you."
Meet the other Innovation Award recipient and see all six Top Nurses 2022 award winners by clicking here. This article appeared in the September 2022 issue of Madison Magazine.