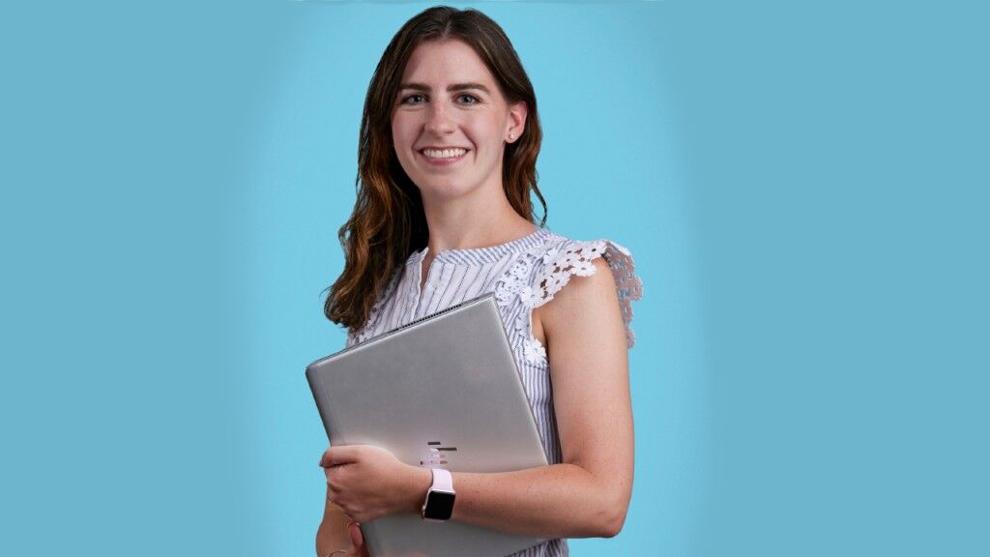 Meghan Nolden loves working with veterans. "I can't imagine not being a nurse, but I especially can't imagine not working with veterans," says Nolden, an evidence-based practice RN at the William S. Middleton Memorial Veterans Hospital. "I find it really rewarding to be able to give back and serve those who have served."
Nolden demonstrated her commitment in December 2021 when she willingly agreed, on top of her regular duties, to help develop a monoclonal and non-monoclonal antibody therapy clinic for COVID-19 patients at high risk for adverse outcomes because of preexisting conditions.
"Meghan was always there to raise a hand and say 'I'll do it,' " says Pamela Crary, Nolden's nominator and chief nurse of nursing operations and professional practice at the VA Hospital. "I see her as a bright light and a future nurse leader."
Additionally, Nolden has triaged employees with COVID-19 symptoms and exposure and occasionally covers hours on the inpatient units, all while continuing her regular duties, according to Crary.
"She always wants to keep her foot in practice, knows what's happening, stays engaged with the nurses," says Crary. "I've just been thoroughly impressed with everything she's done."
Nolden's regular duties involve working with two nurse scientists to implement current research into practice. "We're one of the few VAs in the nation that has this kind of role developed, and this infrastructure allows us to support staff to do this," Nolden says. "Typically it takes decades to be able to implement research, so our roles help accelerate the process."
Nolden is introducing a national initiative to the hospital called Commit to Sit, which encourages staff to sit down and have conversations with patients at eye level. Research shows Commit to Sit improved patient outcomes, increased patient satisfaction with the care they received and provided better communication between patients and health care teams.
"It sounds like a very simple idea, but if we were going to do it, we wanted to do it right," says Nolden. "We wanted to make sure that we were thinking through our steps and anticipating our barriers."
An immediate barrier was a lack of seating, so step one was getting chairs into patient rooms. Nolden's team also wanted to be mindful of other ongoing initiatives, seeking out units that had the bandwidth to take on a new program. "We formed a work group. We asked for unit champions. We really wanted to get frontline staff involved because if we were asking frontline staff to participate, we wanted their buy-in," says Nolden.
The program has successfully rolled out on three units, reports Nolden. Even though she's not providing direct patient care at the moment, she is making a difference in other ways.
"Knowing that I am having an influence on patient care, and circling back to the patient, is really rewarding for me," she says. "The patients are really my No. 1. But being away from the bedside now, I [also] really enjoy seeing the spark in staff's eyes when they have a project idea and seeing that passion to improve the quality of care they're delivering."
Meet the other Practice Award recipient and see all six Top Nurses 2022 award winners by clicking here. This article appeared in the September 2022 issue of Madison Magazine.