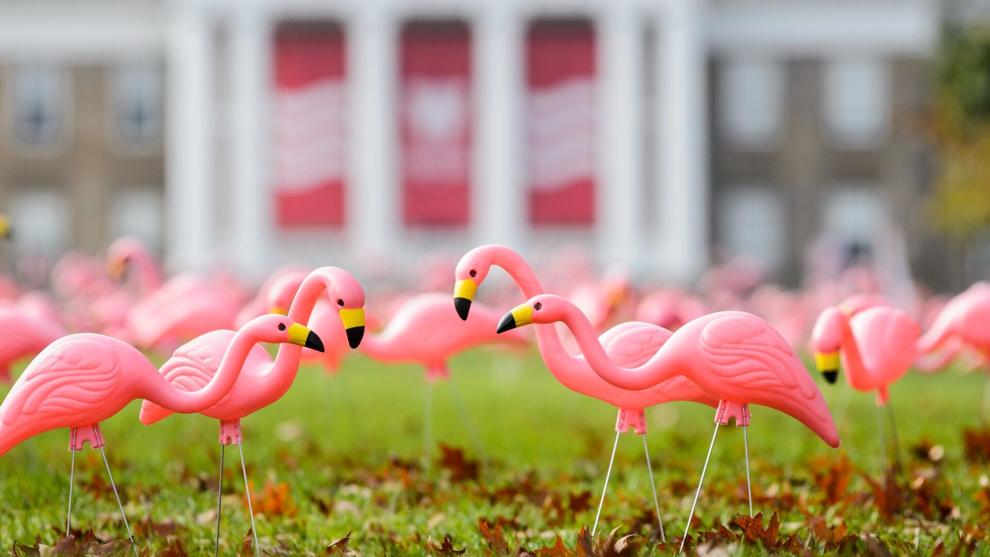 The best tradition is made when those involved don't realize they're starting one. That's how many of the University of Wisconsin–Madison's most storied and lasting traditions have come to be. On this 112th homecoming week, we take a look back at traditions past, and we also checked in with the university to see if any new traditions might be taking root.
UW traditions of yesteryear
A tradition symbolic of UW-Madison's early days is the homecoming bonfire. In 1911, it was proposed to invite alumni back during the football season instead of commencement in June, which was customary at the time. A mass welcome event was planned for Friday night before the game, what came to be known as "smokes and cider." As the years went on and more alumni returned for a weekend in the fall, the homecoming bonfire became one of the most popular events. However, this infamous event led to torch-led marches down State Street that got a little too rowdy. Things shifted in the 1940s, when students and alumni gave up the bonfire for a "campus and community scrap drive" to support the war efforts. The homecoming bonfire has waxed and waned in popularity, but the Friday night State Street parade stuck. Though the bonfire tradition may have fizzled out, it's been replaced with fireworks over Lake Mendota, courtesy of the Wisconsin Foundation and Alumni Association.
Another once-popular homecoming tradition was the homecoming ball. The prom-like dance was first held in 1919 as an opportunity to give students a fun, classy night while also celebrating outstanding members of the student body. The homecoming ball ended in 2011 due to a general lack of interest in a formal ball, but its place has been filled with other activities such as the Block Party in Alumni Park and the Pep Rally on the Union Terrace Stage that features performances by the Madhatters, alumni who double as DJs and the UW-Madison Marching Band.
Ones that have withstood the test of time
A recognizable emblem of UW-Madison homecoming is the button. This tradition started back in 1911 along with "smokes and cider," where buttons were sold for 10 cents declaring "Wallop Minnesota!" The Wisconsin Foundation and Alumni Association have continued creating buttons annually. You can find this year's button passed out at various homecoming events while supplies last.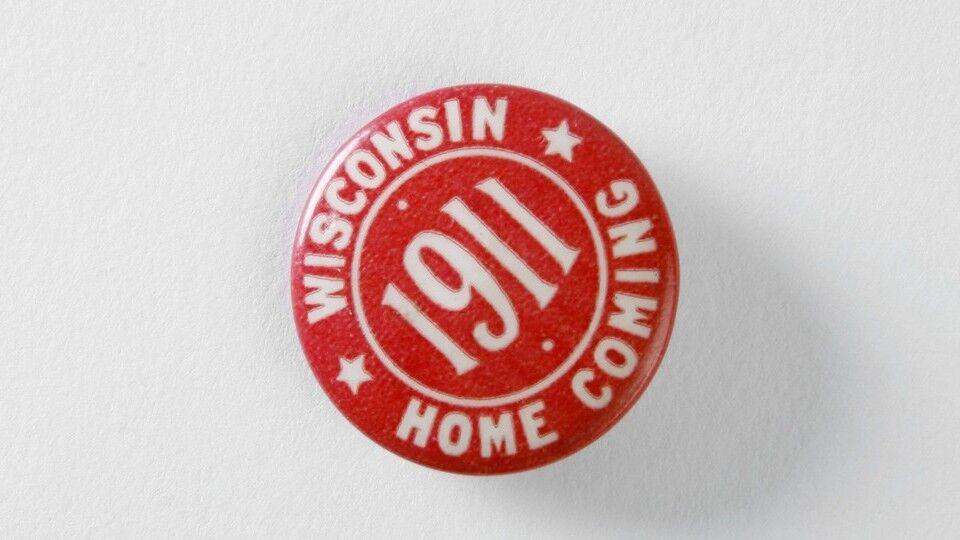 A unique campus tradition that is hard to miss is the hundreds of plastic pink flamingos that fill Bascom Hill. "Fill the Hill" is a fundraising event celebrating its 10th anniversary this year, but the iconic prank is part of an older story. "The two days of giving and goofiness celebrate the classic 1979 student prank when 1,008 pink plastic flamingos covered Bascom Hill," says Tod Pritchard of the Wisconsin Foundation & Alumni Association. The flamingos were placed as a joke by the Pail and Shovel Party back then, but have been a Madison and campus symbol ever since.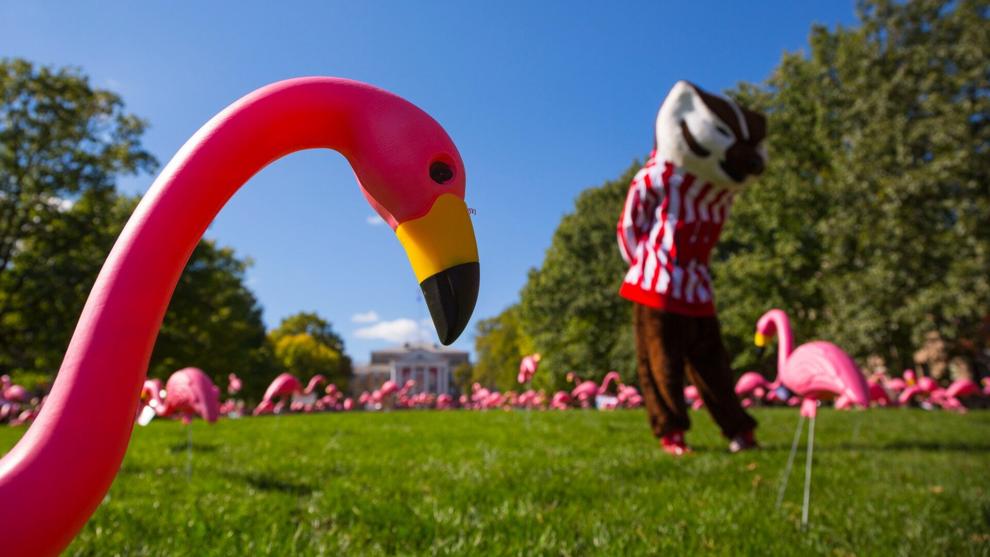 Another longstanding UW-Madison tradition, said to predict a law student's fortune, is the cane toss. The story goes back to the 1930s, when senior law students and faculty would walk in a parade with canes during halftime of the homecoming football game. Decades later, the tradition now looks like hundreds of third-year law students running across Camp Randall to the south end zone before kickoff. The lawyers-to-be then throw their canes over the goalpost, and legend stands that if they catch it on the other side, they'll win their first case, and if they drop the cane, they'll lose the first one.
A few new events with tradition potential
Earlier this year, the new Divine Nine Garden Plaza was unveiled at East Campus Mall honoring the historically Black fraternities and sororities that make up the National Pan-Hellenic Council. On Saturday, Oct. 22, at 11 a.m. there will be a Divine Nine Plaza Kickback – the first of a new campus tradition. Light refreshments will be provided while alumni and students celebrate the new plaza and the unity and leadership it represents.
The student-led Wisconsin Homecoming Committee has added some new artistic events to homecoming week this year. One new addition is a community mural outside Memorial Union and Union South – free to paint and open to all. Also new is the UW Homecoming Window Display Showcase. Campus student groups were invited to decorate windows in Memorial Union to showcase their organization and show Badger pride. These new traditions emphasize student participation and creativity, making homecoming 2022 a little more colorful.
During the game, be a part of a growing UW–Madison tradition. Due to its increasing popularity, the Multicultural Homecoming Tailgate and Watch Party has expanded to the Pyle Center. This tailgate gives Badgers, past and present, a space to watch the big game, enjoy a buffet meal, dance to DJs, snap pics in the photo booth and much more. There will also be the chance to learn more about thePublic History Project and share your stories.