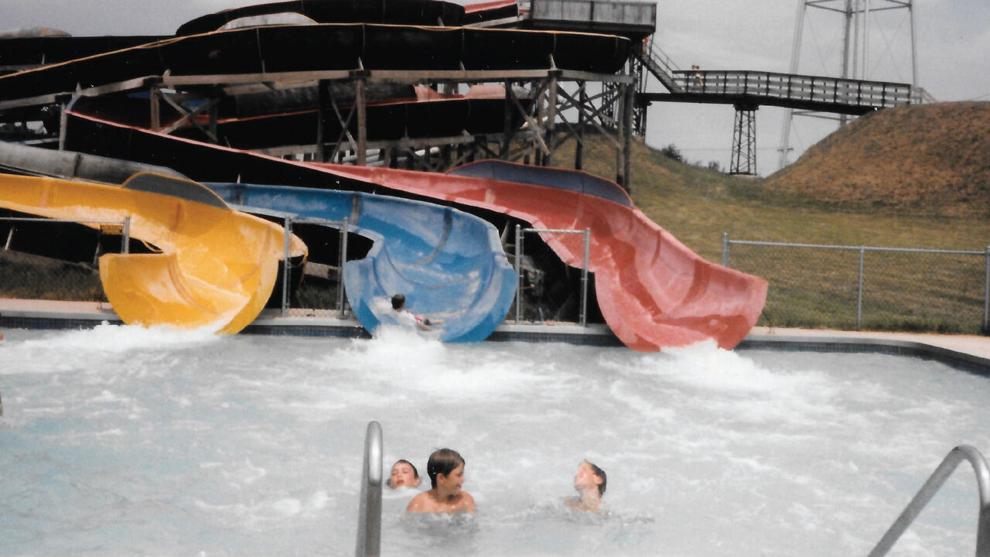 I thought it was a fever dream. Or maybe a forgotten family vacation? Nobody else I knew remembered Wild Waters, a privately owned water park that operated on Madison's south-east side from 1984 to 1991, and so it felt like a figment of my childhood imagination until I saw this photo by Diane Strand Jones in the Lost Madison Facebook group and it all came rushing back.
The red slide was the fastest. Blue was the longest. Yellow had a tunnel, and if you were dexterous enough, you could wedge yourself inside and wait for your friend, then race the rest of the way together in a tangle of tanned limbs. The fiberglass burned, the bolts and seams scraped. Swimsuits snagged, elbows zinged, teeth chipped and bruises swelled — we didn't care. It was the 1980s and we were wild.
I don't remember any adults sticking around, though they must have? We'd pile in Grandma's '78 Buick LeSabre for the interminably long drive — imagine my astonishment when I learned later in life that it was just to the end of the Beltline, where Ho-Chunk Gaming Casino is now — then purchase our $5 day passes from the ticket stand caboose as Z104 tunes blared over the loudspeaker. My Velcro Pac-Man wallet held just enough allowance money for sherbet Push-Ups or ice cream Drumsticks, sugary contraband I wasn't allowed at home. We'd stash our stuff and race barefoot over the squidgy, green artificial grass up the paved hill path, which burned our feet as the day went on, then cross the bridge to the slimy, flag-lined wooden platform up top. There beneath the blazing sun ricocheting off the gleaming globe of the water tower, we raced a seemingly endless loop until somebody got hurt, lightning lit up the sky or the slides closed, whichever came first.
This article appeared in the August 2022 issue of Madison Magazine.