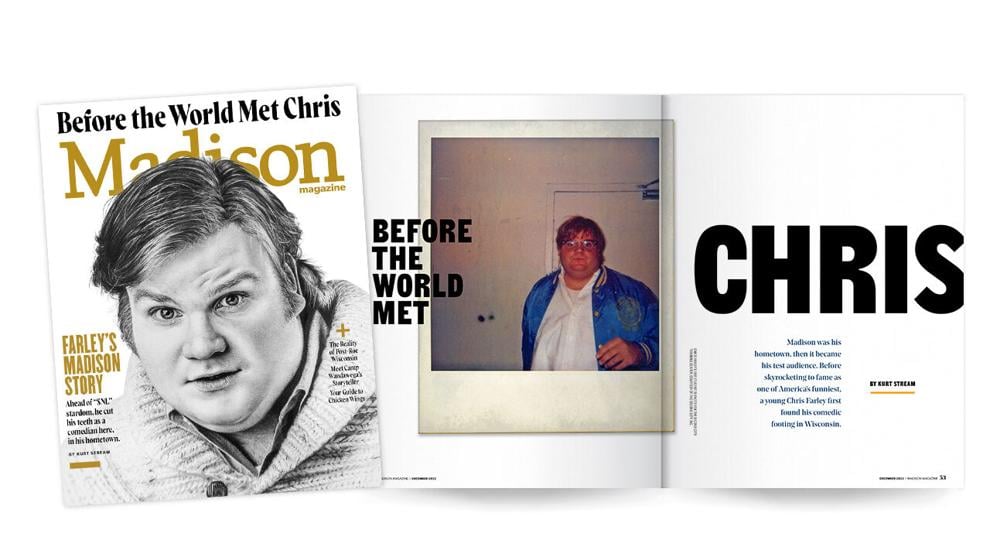 Before he was Chris Farley of SNL, he was a 21-year-old kid trying to find his voice at open mic night at The Comedy Cellar on Madison's State Street. Ahead of a meteoric rise to fame as one of America's funniest, he found his footing here, in his hometown. Writer Kurt Stream — who penned Madison Magazine's exclusive Nirvana in Madison story — places the reader right in this Madison origin story with details of his early days.
Pick up the issue on newsstands the first week of December or order a single copy of the issue here.
---
Some additional December stories include:
Post-Roe Wisconsin:We hear from several area residents about the direct impact and multilayered nuances that demonstrate why a one-size-fits-all sweeping law could and should never apply to reproductive rights.
The Bodgery: There's a spirit of sharing — both tools and ideas — at this local makerspace.
Bootlegging Lady: Madison's most famous bootlegger is still popular 100 years later.
MissingWoman: Melanie Meyer tells the story of the night she went missing — and how she found herself years later.
Chris Borland: Concussion activist football star is back in town advocating for change.
Wings: Prepare to get sauced (after you dive into a basket of chicken wings, that is).
Homecoming: There are strong dinner party vibes at this Spring Green spot.
Camp Wandawega: Meet the woman who turned a historic camp into a dreamy Wisconsin cabin destination.
To ensure you don't miss any future issues and to be the first to read the articles, subscribe to Madison Magazine.