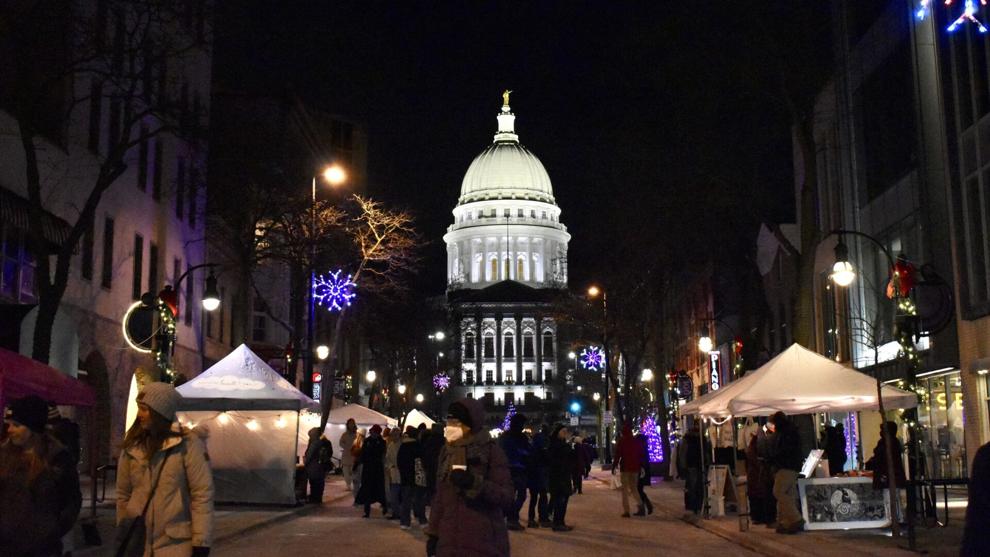 Despite the sub-20 degree temperatures, Madisonians congregated downtown after dark. On Nov. 19, State Street hosted dozens of vendors, buskers and community organizations for the last Madison Night Market of the year.
 "I love being part of the Madison community," says pottery vendor Jennifer Darner Wolfe, "so that's why I chose to do the night market."
Madison's Central Business Improvement District partnered with the November Madison Night Market to kick off Shine On Madison, a six-week event to draw visitors to local businesses during the winter months. 
This year, Shine On Madison began with a lighting ceremony and a tour of 15 community planters around downtown, each of which has been "adopted" by a local non-profit. The displays bring attention to these organizations and offer information about their work.
At 6:08 p.m. — a tribute to the city's area code — the lights from all the displays turned on, illuminating the blocks of State Street. The lights will be featured downtown until Jan. 9, 2023.
Vendor Simona Fabian says the lighting ceremony is a big draw, not only for customers, but for vendors like herself. Her business, Macarons by Sim, makes a regular appearance at the night market, and she didn't want to miss the last one of the year.
The Madison Night Market is a staple cultural tradition that customers and business owners look forward to. For many vendors, the night market comes at an opportune time to connect with people looking to do early holiday shopping.
Trenton McMaster and Gabie Garcia are siblings and co-owners of Burn Local, a business that sells candles in repurposed beer cans. They say the winter season is one of the best times for their business, which they started during the pandemic.
"I knew how to make candles. We put a candle in [a beer can]. We put a candle in a few more, and then it kind of spiraled. And now here we are in the freezing cold," Garcia says.
Their candles are well-received by customers at the night market. Garcia says they are inspired by efforts to recycle the "cool can art" they can find in the Madison area, which resonates with local buyers.
McMaster also emphasizes the importance of the market taking place on State Street — one thing, he says, that makes Madison a special place.
"You do feel like you're on a street and you're in a town, but it's all foot traffic," McMaster says. "It gives it a little different feel than what you experience in most cities."
The Madison Night Market is a celebration of the coming-together of more than just community members, but also businesses, independent sellers, musicians and local organizations. Coupled with downtown Madison's unique pedestrian charm, the night market is an experience that can't be rivaled in other cities.
"Unlike other traditional craft markets, this draws such a variety of people — from the residents of Madison to the university students and everything in between," Garcia says. "I think that really sets it apart."
Celia Hiorns is an editorial intern at Madison Magazine.