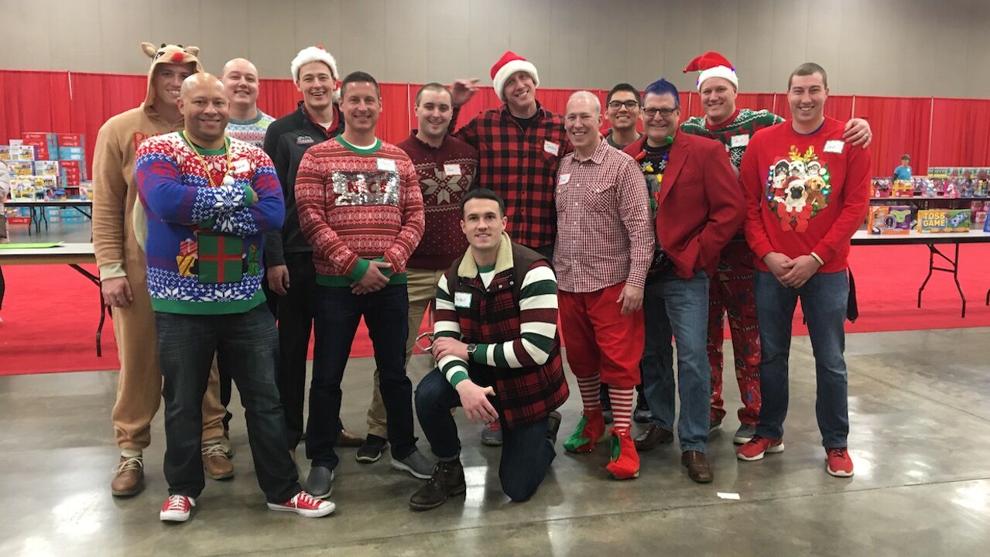 The holiday season can be a time of joy, but it can also be a time of greater need for many members of the community. From volunteering to donation drives, there are plenty of ways to get involved in the Madison area this month. Here are 9 charitable opportunities to get you into the spirit of giving this December.
Empty Stocking Club Toy Depot
The Empty Stocking Club is hosting their annual Toy Depot at the Alliant Energy Center, and they need hundreds of volunteers to make it happen. Sign up online to help unload toys, set up, assist families in choosing gifts, or check in the attendees. Registered families can shop for the toys they would like as part of the Empty Stocking Club's mission to provide every child with a toy on Christmas. December 14-15, 8 a.m.-6 p.m., emptystockingclub.com/toy-depot
Young Athletes Program Reading Wish List
In order to promote the benefits of literature for young children, Special Olympics Wisconsin's Young Athletes Program is holding a book drive. To donate, simply order wish list books from Amazon and they will be sent directly to the main office at 2310 Crossroads Drive in Madison. As a branch of Special Olympics Wisconsin, the Young Athletes Program works to serve children with intellectual disabilities. Donations accepted available through Saturday, Dec. 31. Find more information here.
Madison College Gift Wrap Donation
Madison College Volunteer Center is in need of gift wrapping for its Santa's Wish List program. If you have wrapping paper, ribbon, bows, gift bags, tissue paper or tape that you'd like to donate, contact volunteercenter@madisoncollege.edu. Bring donations to the Truax Campus or the Goodman South Campus Student Life offices. The program donates gifts to the children of Madison College students who are experiencing financial need. Donations accepted through Friday, Dec. 16. Find more information here.
Porchlight's Holiday Wishlist
Help support Madison citizens experiencing homelessness by donating household, cleaning and shelter supplies to Porchlight Inc. Items from the wish list can be shipped directly to the Porchlight office, or you can drop them off in person at 306 N Brooks St. in Madison. Through advocacy and support, Porchlight works to reduce homelessness in Dane County by providing critical resources and reducing barriers. Donations accepted through Tuesday, Jan. 31. porchlightinc.org/donate-items
Clothe a Child Volunteer Event
Help provide children in need with clothing this holiday season. In a collaborative event between YWCA and Give Back Madison Inc., volunteers will help shop for clothes and toys. They will be given a list and a $50 budget to buy clothes and toys from the Walmart Supercenter at 4198 Nakoosa Drive. YWCA is a nonprofit that advocates for racial and gender equity, job training, housing and restorative justice. Give Back Madison Inc. is a group of professionals that holds volunteer events to support the community. Tuesday, Dec. 13, 5:00 p.m.-6:30 p.m. Sign up via meetup.
Toys for Tots Bar Crawl
For a fun charitable event, join Milwaukee-based Swarmm Events and several Madison bars in the Toys for Tots Bar Crawl. Purchase a $15 ticket which includes admission, complimentary mug, passport lanyard and a donation to Toys for Tots. Ugly sweaters are highly encouraged! Toys for Tots is a national organization that helps provide toys for families who cannot afford them on their own. Saturday, Dec. 10, 12:00 p.m.-5 p.m. Sign up via eventbrite.
YWCA Holiday Giving Program
The YWCA is collecting donations of gift cards most-needed items to help support more than 140 families in its Housing Program. Items can be mailed or delivered directly to the YWCA office at 101 E Mifflin St. in Madison. Select a gift card for food, most-needed items and family activities from their wish list, or select an item from their Amazon wishlist. Donations should be mailed or delivered by Monday, Dec. 12. ywcamadison.org/get-involved/ways-to-give/holiday-wish-list
Holiday Blood Drive
The American Red Cross is hosting a holiday blood drive at the Alliant Energy Center. For this special donation event, donors will receive a Red Cross t-shirt and a chance to enter a drawing to win prizes. The event will also have free parking, drinks and entertainment. The American Red Cross helps provide healthcare services and disaster relief to communities in need. Walks-in are welcome but appointments are encouraged. Friday, Dec. 23, 7:00 a.m.-1 p.m. Choose a donation time through the Red Cross. 
Holiday Hope Donation Drive
The Farley Center and The Wander Parlour are partnering with the Goodman Community Center to collect donations of essential items for people in need this holiday season. Select toiletries and other items from the wish list, and drop them off at either The Farley Center at 2299 Springrose Road in Verona or The Wander Parlour at 6045 Monona Drive, Suite F in Monona. The Farley Center works to promote progressive change and ecological justice. The Wander Parlour is a salon and beauty supply shop that works to promote sustainability. Drop off donations by Friday, Dec. 16. farleycenter.org/event/holiday-hope-donation-drive
Celia Hiorns is an editorial intern at Madison Magazine.