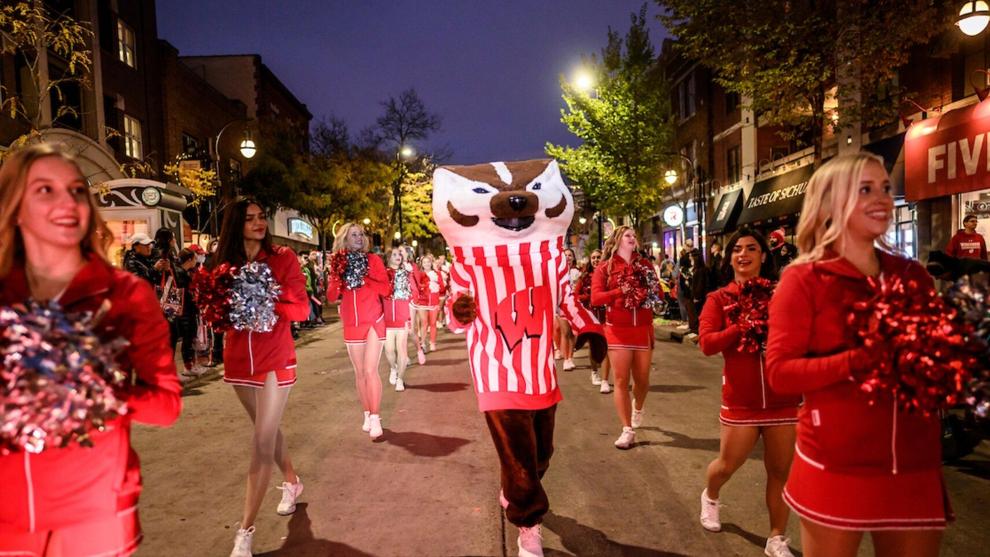 If you're returning to Madison this week as an alumni, we won't judge if you stick to making your yearly rounds to the same places. But in case you're looking to switch things up this year and experience both new and old traditions in Madison, we have a few suggestions.
Take a picture with "Well Red" Bucky at Alumni Park
Whether you're an alumni, a current UW student or a Badgers fan, snap a picture with the iconic "Well Red" Bucky statue at Alumni Park, right next to Memorial Union. The almost 8-foot Bucky has proudly gazed toward Lake Mendota since 2017 and has been the subject of many selfies and group photos ever since. 
Go to a free show at Hamel Music Center
The Hamel Music Center, home of the Mead Witter School of Music, offers frequent free concerts showcasing the talented community of musicians, scholars and teachers. Homecoming Weekend concerts include a School of Music Open House, the Wisconsin Brass Quartet and the University Bands. 
Eat cheese curds at Graze
Nothing says "Wisconsin" more than fried cheese curds, and Madison has some pretty great options. Graze Restaurant on Capitol Square offers cheese curds featuring Hooks Cheese served with a buttermilk ranch. 
Get in a (virtual) golf round at 7 Iron Social
7 Iron Social is a new-ish addition to Madison's State Street and features five full-swing golf simulators and more than 80 professional courses. If golf isn't your thing, try out 7 Iron Social's 12 other sports games, or sample appetizers and drinks. 
Drink a brandy Old Fashioned at Plain Spoke Cocktail Co.
Plain Spoke Cocktail Co. serves "all the craft and all the cocktails" uniquely in cans. Plain Spoke beverages can be enjoyed at the King Street location or found at liquor stores and restaurants all over the campus area if you want to sip on the famous Wisconsin beverage at a tailgate. 
Go to the homecoming parade on Friday
This Madison tradition celebrates "everything you love about UW." The event takes place Friday, Oct. 21 at 6 p.m., and will run from the corner of Wisconsin Avenue and Langdon Street to the corner of State and Lake Street. Join the UW-Madison Marching Band, alumni and student organizations to show your badger pride. More information here 
Right after the parade, check out the Multicultural Homecoming Yard Show at Memorial Union
For a night of tradition and celebration, head to the Multicultural Homecoming Yard Show after the parade to see National Pan-Hellenic Council and Multicultural Greek Council members "showcase some of their newest step, stroll and salute routines." Space is limited, so register in advance. 
Instead of a doughnut at Greenbush on Regent, stop by new tenant Leopold's Book Bar Caffe for live music
Many remember Greenbush Bakery occupying what is now Leopold's Books Bar Caffe – the new tenant of the Regent Street building since last July. Stop in for a specialty cocktail or coffee beverage while browsing books curated and organized by country. Still craving a Greenbush donut? Head two blocks down Regent Street to find the bakery's new location. 
Squeeze in a 21+ costume party at Madison Children's Museum: Adult Swim: Halloweird on Friday night
Madison Children's Museum is honoring "the public pool tradition of kicking the kids out so adults can have the space to themselves" on Friday, Oct. 21 for adults to explore and enjoy the museum and participate in Halloween activities. Costumes are encouraged. 
Sit around the rooftop campfire at Camp Trippalindee
Camp Trippalindee, the bar and restaurant on the rooftop of The Graduate Hotel on Langdon Street, brings everything you love about summer camp to the city all season long. Enjoy bonfire s'mores kits, boozy juice, small bites and board games all with a view of Lake Mendota.
Play a few arcade games at I/O Arcade Bar
Bring your friends (and your quarters) to I/O Arcade Bar on Williamson Street to enjoy custom cocktails and craft beers while playing nearly 50 different old-school arcade games and over 20 pinball machines. I/O is 21+, but gamers of all ages are welcome Saturdays and Sundays from 11 a.m. to 2 p.m. 
Check out the public history project Sifting & Reckoning at Chazen
The Chazen Museum of Art in collaboration with the UW-Madison Public History Project presents Sifting & Reckoning: UW–Madison's History of Exclusion and Resistance. Sifting & Reckoning is a multi-year effort that exposes how marginalization and discrimination permeated student life, academics, housing, athletics and other facets of the university and explores the impacts still felt today. This powerful exhibit runs until Dec. 23.