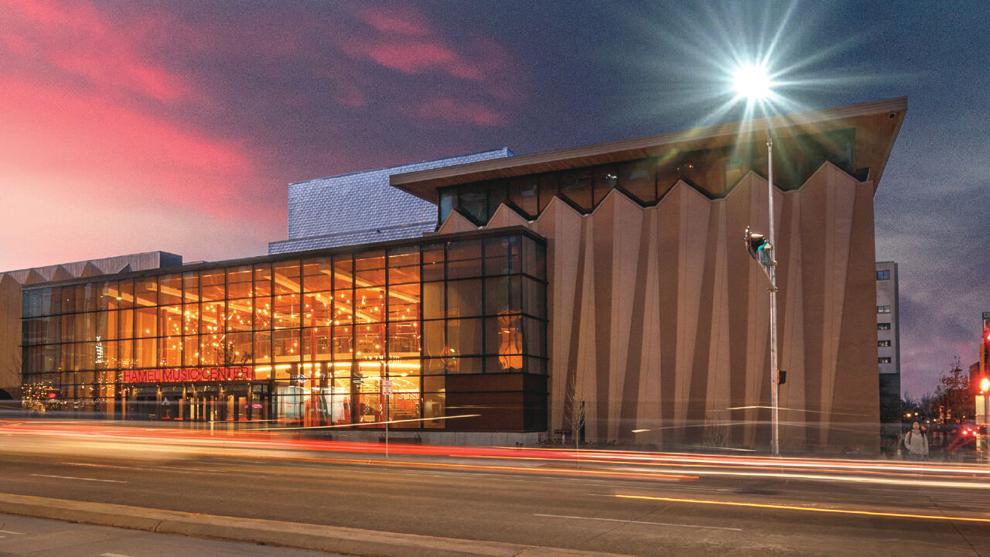 From the second-floor rehearsal space in the new Hamel Music Center, one can gaze out upon the Chazen Museum of Art and East Campus Mall — all part of a University of Wisconsin–Madison arts corridor.
At the busy corner of University Avenue and North Lake Street, UW–Madison's new $55.8 million music center is part of the Mead Witter School of Music. The venue, which opened in October, includes a 660-seat concert hall and 300-seat recital hall. The facility also has a soundproofed rehearsal space and recording studio that give students and instructors space to compose, practice and perform music.
Hamel's impressive lobby, with its central staircase and copper-pipe chandelier, provides inspiration for young musicians learning their craft and preparing for undergraduate and graduate recitals.
Tickets are on sale for the Jan. 26 chamber music concert in the new Mead Witter Foundation Concert Hall by faculty pianist Martha Fischer, students and guest alumni. Upcoming performances by outside artists include the New York City-based orchestral collective The Knights playing Feb. 8 and acclaimed Taiwanese American pianist Wu Han joining the UW Symphony Orchestra on March 7, both in the new concert hall.