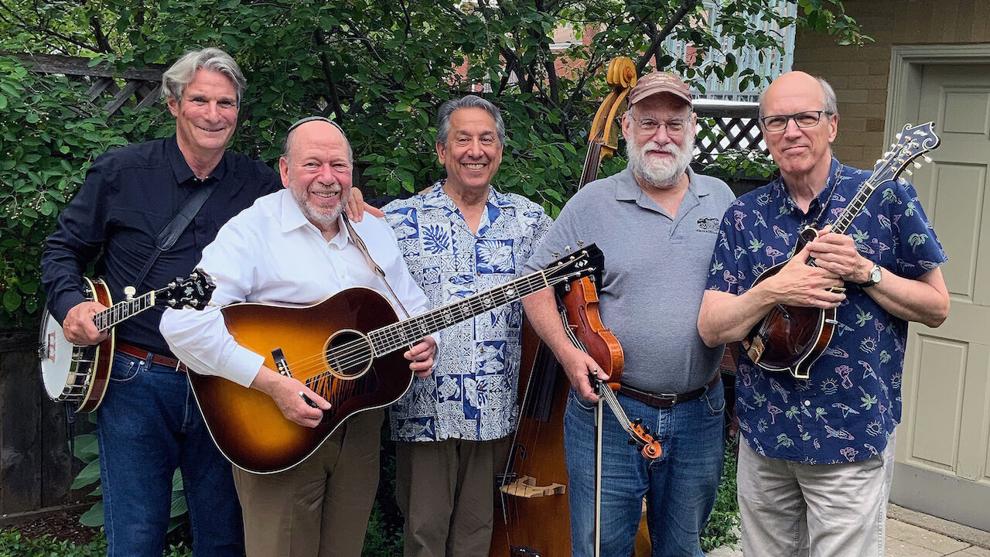 Third Coast Bluegrass is a band made up of five longtime friends — Marc Edelstein on bass, Ken Finkel on banjo, Peter Knupfer on fiddle, Don Stiernberg on mandolin and Jerry Wicentowski on lead vocals and guitar. Since performing their first gig in June 2021, this group of musicians has been tying their Midwest roots to the modern bluegrass scene. 
"We're doing this for the love of the music and the love affair with the audience," Finkel says. "It's pretty joyful. We don't take ourselves too seriously — we take the music very seriously."
Throughout their time together, they have performed extensively, including at Atwood Festival in Madison and Frankfort Bluegrass Festival in Illinois, as well as plenty of smaller venues like Cafe Carpe in Fort Atkinson. They also play a variety of songs, from bluegrass classics to originals. 
More recently, they've sold out their upcoming performance at North Street Cabaret on Jan. 12. Though this is their first time at this venue, they are no strangers to Wisconsin audiences.
"Wisconsin provided this wonderful background for this band to work in," Knupfer says. "It was a much more discerning audience… they understood what inflections we were adding to the music, what we were doing with material that had been recorded many times, but that we were giving our own feelings and emotions to."
Based in three different states in the Midwest — Michigan, Illinois and Wisconsin — the members of Third Coast bring different musical backgrounds to the group. 
Finkel picked up bluegrass music while attending college at the University of Rochester in New York. After meeting Knupfer at a gig in Chicago, they formed the band Grass, Food and Lodging in Milwaukee, gaining regional recognition during their five years together.
After Grass, Food and Lodging, Knupfer went on to become an award-winning fiddler, performing with other bluegrass, country, folk and string swing groups. In 1976 and 1995, he was the State Oldtime Fiddle Champion for Wisconsin and Kansas, respectively.
In the 1970's, Edelstein co-founded The Special Consensus — a bluegrass band that represents just a small part of his music experience. It was during his time performing with this group that he met Wicentowski.
"I had heard about Jerry forever. He was kind of a ghost-like presence in the Midwestern bluegrass scene," Edelstein says. 
After inadvertently crossing paths with Wicentowski, they ended up playing together. Known for his voice, Wicentowski is considered to be one of the Midwest's bluegrass greats.
Wicentowski grew up in New York City, so his vocal performance has been influenced by first-generation artists there. Now based in Milwaukee, Wicentowski has a successful career and substantial record output.
Stiernberg has been working as a musician for decades — performing, writing, recording, producing, teaching and in particular, mandolin playing. After studying under Jethro Burns, a famous comedian and mandolinist, Stiernberg went on to become a leader of the jazz mandolin style.
This unique concoction of talent has made Third Coast what it is today — a coalition of pioneers in the bluegrass scene.
"One of the key things about us is the backgrounds we all come from and the collective influence we've had on the growth and development of bluegrass in Wisconsin, Illinois and Michigan," Finkel says. "People have long memories and the connection with the audiences is huge for us.
Finkel also attributes much of their success to their song choice. By performing songs with standard bluegrass instrumentals and unique vocal arrangements, they can create music that emphasizes their chemistry as a group. Alongside their passion for music, their bonds as friends shine through.
"We're enthused and tickled and amazed, just having this chance to go out and present this music and be with each other. It's just all such a natural fit," Stiernberg says.
For more on Third Coast Bluegrass, including upcoming performances, visit their Facebook page.
Celia Hiorns is an editorial intern at Madison Magazine.
​COPYRIGHT 2023 BY CHANNEL 3000. ALL RIGHTS RESERVED. THIS MATERIAL MAY NOT BE PUBLISHED, BROADCAST, REWRITTEN OR REDISTRIBUTED.