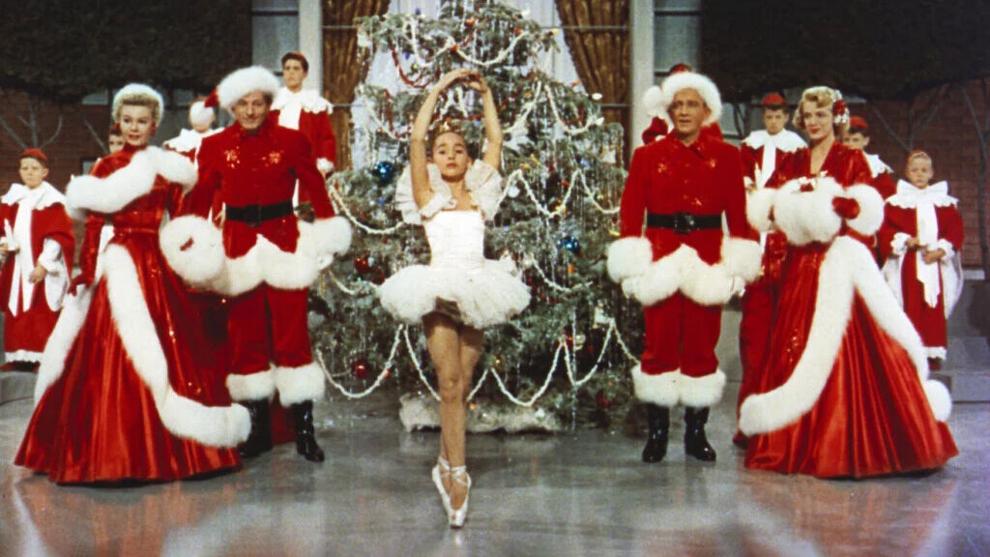 In 1954's "White Christmas," the story culminates in a classically elaborate Christmas film ending: snow begins to fall outside of the rural Vermont inn, the singing and dance spectacular goes on after hanging in the balance, and the guy gets the girl after much pining throughout the movie. This narrative has loosely translated into dozens of Christmas movies over the years, but only a few become classics, and we continue to watch them year after year despite knowing exactly how they all turn out. It's likely because curling up on the couch with a good movie hits a little differently this time of year when it's dark and cold outside and a warm beverage is usually in order.
Maybe you stick to the classic tales, marking them off a checklist to make sure you see them all before Dec. 26 inevitably rolls around. Or perhaps you're a fan of the holiday-adjacent movies, binge-watching all of the "Harry Potter" series as December marches on. Even if you're long sick of traditional holiday films, we've included a few special screenings of international films set during the holidays that even the most cultured film buffs can get behind. Find out where you can fill up on holiday movies — old, new, classic and bizarre — in Madison this month.
"Tokyo Godfathers" (2003) at The Marquee in Union South
Wisconsin Union Directorate Film committee presents a free screening of "Tokyo Godfathers," a Japanese animated film that follows the story of three houseless individuals on the streets of Tokyo who discover a newborn baby in a trash heap on Christmas Eve and embark on a journey to return the baby to its family. Dec. 9, 9-10:45 p.m.; Dec. 10, 6:30-8:15 p.m., 1308 W. Dayton St., find details here
Flixmas at Flix Brewhouse
Flix Brewhouse, Madison's eastside dine-in theater, has a line-up of classic holiday films playing throughout December. Its Flixmas special calendar includes "The Polar Express" (2004) on Dec. 10 and 24, "National Lampoon's Christmas Vacation" (1989) on Dec. 13 and "Elf" (2003) on Dec. 11. On Dec. 21, the movie theater will celebrate the 75th anniversary of Christmas classic "It's A Wonderful Life" (1946) with a special screening. If you're one of the many that believe the Harry Potter series is best viewed around the holidays, "Harry Potter and the Deathly Hallows: Part II" (2011) will play at Flix Brewhouse Dec. 9-14. 85 East Towne Way, find all dates and screen times here
Brew N View: "Elf" at Majestic Theatre
"The best way to spread Christmas cheer is by watching "Elf" at the Majestic while drinking beer" — or soda at this all-ages showing of "Elf" (2003). Will Ferrell plays Buddy the Elf, an oversized and incredibly eager member of Santa's crew who grows up in Santa's workshop believing himself to be an elf, until Santa shows him a photo of his parents and he sets off for New York City in search of his biological family. Dec. 15, 6:30 p.m., 115 King St., find tickets here
"Dial Code Santa Claus (3615 code Père Noël)" (1989) at UW–Madison's Cinematheque
The final of UW Cinematheque's presentation of six French feature films, "Dial Code Santa Claus" or "3615 code Père Noël" plays a sick twist on a traditional Christmas film narrative. A young boy who believes in Santa Claus waits alone in his family mansion on Christmas Eve for a visit from the man in the red suit. Instead, he gets a visit from a department store Santa full of psychotic, homicidal intent. Sound familiar? According to UW Cinematheque, "rumor has it that this stylish and surprisingly whimsical action thriller was viewed by John Hughes the year before 'Home Alone' was released." Dec. 16, 7 p.m., 4070 Vilas Hall, 821 University Ave., find details here
Christmas Movie Nights at nineteen09
nineteen09 wine bar in Cross Plains has two upcoming showings of holiday classics. "White Christmas" (1954), starring Bing Crosby and Rosemary Clooney, follows two singing acts as they team up to perform in rural Vermont with budding romances along the way. Catch this showing on Dec. 14. "It's A Wonderful Life" (1946), the story of George Bailey looking back on his life as it could have been if not for all of his good deeds over the years, shows on Dec. 21. Snacks, a themed drink and wine will also be available — otherwise, bring your own food. Wednesdays in December, 6:30-8:30 p.m., 1909 Main St., Cross Plains, find details here
Marcus Theatres presents Holiday Classics Retro Series
Tickets are only $5 for Marcus Theatres' special holiday line-up of classic Christmas films. Titles include "The Grinch" (2018), "A Christmas Story" (1983), "Love Actually" (2003), "How the Grinch Stole Christmas (2000) and more. Dec. 2-15, various times, 7825 Big Sky Dr., Madison; 2830 Hoepker Road, Sun Prairie, find showtimes here
Emma Waldinger is associate editor at Madison Magazine.